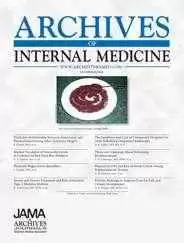 Caption: New study on endoscopy complications in the latest Archives of Internal Medicine.
Celiac.com 11/09/2010 - Each year in the United States, millions of people undergo gastrointestinal (GI) endoscopic procedures. Generally, the procedures have been regarded as safe, with a physician-reported complication rate for endoscopies of just 7%.
However, most systems, including the gastroenterology department at Beth Israel,  maintain a voluntary, paper-based physician reporting system wherein each gastroenterologist submits a monthly log describing any known complications.
---
Celiac.com Sponsor (A12):


---
To get a better idea of actual numbers based on Emergency Room (ER) visits within two weeks of an endoscopy, Daniel A. Leffler, MD, of Beth Israel Deaconess Medical Center in Boston, set out with a research team to conduct a more in-depth review. 

Their review of electronic medical records (EMR) showed that complications after endoscopy may be more common than previously thought.

Dr. Leffler and his colleagues reviewed over 400 emergency department (ED) visits logged in one hospital's EMR system within two weeks of an endoscopic procedure.

They found that nearly one-third of those visits were related to the previous endoscopy.

Overall, they looked at records for follow-up visits for 6,383 esophagogastroduodenoscopies and 11,632 colonoscopies. The medical center's electronic reporting system showed 419 ED visits within two weeks of these procedures.

The review team determined 32%, or 134 of these visits, to be directly related to the endoscopic procedure. Yet only about 7% of these were reported using the standard physician reporting system, the researchers said (P<0.001).

The team also found that 29% of 266 subsequent hospitalizations were directly related to the patients' endoscopic procedure.

Most of the ER visits were a result of abdominal pain (47%), gastrointestinal tract bleeding (12%), or chest pain (11%).

By looking at actual electronic admission data, rather than relying on the more cumbersome physician reporting data, the research team found "a 1% incidence of related hospital visits within 14 days of outpatient endoscopy, 2- to 3-fold higher than recent estimates."

This is important not just from a patient wellness perspective, but from a financial one. According to Medicare standardized rates, the average costs of endoscopic-related complications is $1403 per ED visit, and $10123 per hospitalization. Over the full screening and surveillance program, such complications added an extra $48 to each exam.

The team's own words reinforce their conclusions: "Although the overall rate of severe complications, including perforation, myocardial infarction, and death remained low, the true range of adverse events is much greater than typically appreciated."

Moreover, "standard physician reporting greatly underestimated the burden of medical care related to endoscopic procedures and unexpected hospital utilization," Leffler and colleagues wrote.

With so many cases of celiac disease relying on biopsy via endoscopy, these numbers might be especially interesting to people with celiac disease, in addition to anyone else facing endoscopy in the future.

Source: