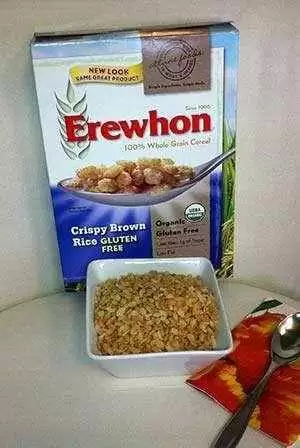 One of the difficult aspects of being a parent, especially if you are dealing with allergies, is to try and find a food that is nutritious, affordable and more importantly—finding one that all of my kids will enjoy! 
When I discovered  Erewhon's gluten-free Crispy Brown Rice Cereal, I just had to give it a try.  The ingredient list is simple, which I love (only 3 ingredients total), and it is low in fat and has only 1 gram of sugar per serving.  It is also made with 100% whole grains. 
---
Celiac.com Sponsor (A12):


---
---
Celiac.com Sponsor (A12-m):


---
When I first opened the package, it reminded me of a well known cereal that I grew up with.  I popped a few in my mouth and I was not disappointed!  This gluten-free cereal had a light crisp texture with a slight nuttiness...I am hooked! 

When I introduced it to my kids there was no way I was going to tell them that it was healthy—I just served it up with some milk and they all dug right in.  They now ask for this crispy rice cereal by name (which makes me very happy), and we throw in some fresh berries every now and then to make it an extra special treat.

For more information visit their site: http://www.attunefoods.com/products/Erewhon/erewhon-crispy-brown-rice-gluten-free-cereals

Note:Articles that appearin the "Gluten-Free Food & SpecialtyProduct Companies" section ofthis site are paid advertisements. Formore information about this seeour AdvertisingPage.