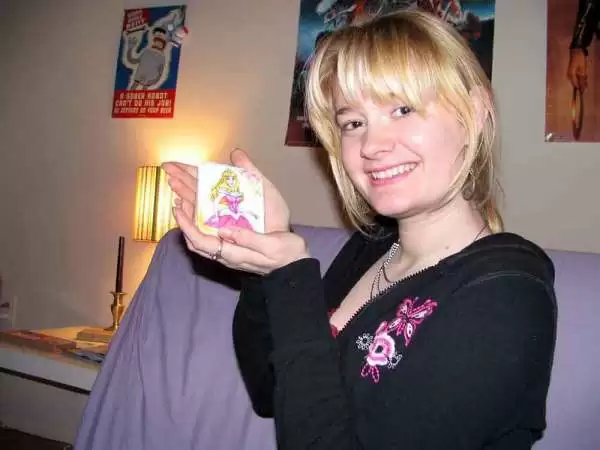 Caption: Disney princess cookies. Image: CC BY-SA 2.0--doublecompile
Celiac.com 12/28/2019 - Nothing is better than a homemade warm cookie right from the oven, and this easy recipe makes FOUR different (gluten and dairy free) delights! These tender, flavorful treats from my new Baking Cookbook are sure to be a hit with you and your family.
Since so many gluten-free recipes use a high percentage (sometimes 60-70%) of highly refined starches -- which are correlated with diabetes, obesity and heart disease -- I was motivated to develop recipes using primarily healthy, whole grain flours. After careful testing, I've developed this versatile cookie recipe that features the 'whole' grain flours from sorghum and brown rice. 
---
Celiac.com Sponsor (A12):


---
---
Celiac.com Sponsor (A12-m):


---
These cookies call for walnut or sunflower oil, or your favorite butter substitute. I like the lighter taste and texture of cookies made with oils rather than with saturated fats, so when choosing a butter substitute, I look for one made from monounsaturated fats.  As in most gluten-free recipes, an acid is added to balance the pH and to boost the leavening action. Cream of tartar serves that purpose in this recipe.
3 Gluten-free Cookie Tips
Unlike gluten-based dough which can get rock-hard when over-beaten, beating the gluten-free dough makes it more 'airy' and lighter.  
If baking right after mixing the dough, let it sit about 5 minutes before forming balls to bake. Gluten-free flours are dry, and this helps it to absorb the moisture, to create a better end-result.
Gluten-free flours do not usually contain preservatives and can go rancid easily. Store them in the freezer if possible. If they smell 'off', throw them away. 
A year and a half ago, I started working on the Baking Cookbook. Each recipe started with a blank sheet of paper and all were developed with the goal of making delicious baked goods with the most whole grain flours possible. Saving time (and money) is emphasized. Wet and dry ingredients are separated so you can pre-make 'dry mixes' and then mix the 'wet' ingredients so you can make homemade baked goods in minutes. For more information, please visit www.alternativecook.com.  
8 Tips for Making the Perfect Cookie
Let dry and wet ingredients come to room temperature before mixing dough.
Aerate the flours before measuring. Use 'scoop-able' cups, measure and scrape off the top with a dull knife edge. 
Cookies bake best on a silicone baking pad available at cooking or department stores.  
Try to make all cookies the same size so they bake uniformly.  
Ovens vary in temperature, so it is a good idea to have a thermometer to check the actual temperature. Oven thermometers are inexpensive and available at cooking or department stores. 
If your oven has a 'hot spot', turn sheet half way through baking time, otherwise keep oven door closed while baking. If you want to peek, and if your oven has a window, turn on oven light to check on them.
Remove cookies from the oven and let them sit on the baking sheet a few minutes before removing from the pan.  (I know, this is hard to do–but they'll 'set up' and be less likely to break.) 
Double or triple the recipe when you make a batch and freeze the dough to make a variety of fast, tasty cookies in a matter of minutes. 
Gluten-Free Sugar Cookie Recipe
Excerpted from Gluten-Free, Dairy-Free, (GFCF) Baking Cookbook by Jean Duane, Alternative Cook, LLC.  © 2009, Alternative Cook, LLC.
Preheat oven to 350F.
Wet Ingredients:
½ cup walnut, sunflower oil, OR butter substitute
1 cup organic cane sugar
2 tsp.  vanilla
3 egg whites
1/3 cup rice, nut or seed milk
Dry Ingredients:
1¼ cup whole grain sorghum flour
1¼ cup whole grain brown rice flour
½ cup cornstarch or sweet rice flour
1 tsp.  cream of tartar
1 tsp.  baking soda
1 tsp.  baking powder
2 tsp.  xanthan gum
½ tsp.  salt
Directions:
In a stand mixer, combine wet ingredients. In a separate bowl, whisk dry ingredients together and add to wet ingredients. Mix until incorporated.  
Follow directions below depending on the variation you choose.
Bake 10 to 12 minutes.  
Nutritional Information Per Serving: Servings 48 .  Calories 74 .  Fat 3g  .  Protein 1g .  Carbohydrates 12g .  Cholesterol 0mg .  Sodium 63mg .  Fiber 0g
Four Variations on the Basic Cookie
Snickerdoodles:  Make the Sugar cookie dough. Form the cookies into 2" balls and place on a baking sheet. Using the bottom of an oiled glass, press the cookies until they are about ½" thick and 3-4" wide. Make a cinnamon and sugar topping by placing 2 TBS of sugar and 1 tsp.  of cinnamon in a bowl. Sprinkle each cookie with the cinnamon and sugar topping. Bake according to the above directions.
Cutout Cookies:   Make the Sugar Cookie dough and refrigerate it for 2 hours. Roll out the dough about ½" thick on an oiled baking surface. Cut out with cookie cutters. (Note: if using a silicone baking surface, use plastic cutters.)  Carefully remove the dough around the cutouts. Bake according to the above directions and ice with your favorite icing when cooled.  3 Tips for Cutout Cookies:  1) Chilling the helps the dough to hold its shape when rolling out and cutting into shapes, and prevents over-spreading when baking. 2) Oil your fingers, the rolling pin and the baking rolling surface (if not using a silicone pad) with the same oil called for in the recipe before working with the dough. This will help your cookies brown nicely, and will keep the dough from sticking to you and surfaces. 3) To avoid breaking or stretching out the cut out dough, roll the dough out on a Silpat (a non-stick baking mat) cut shapes with a plastic cutter, and remove dough around the shapes.
Jammie Sammies:  Make the Sugar Cookie dough and refrigerate it for 2 hours. Roll out dough about ½" thick on an oiled baking surface. Using a round, fluted-edge cookie cutter, cut into circles. Carefully remove the dough around the cutouts. Sprinkle sugar on top. Bake according to the above directions. Cool. Smear one cookie with your favorite fruit preserves and place another cookie on top to make a 'sandwich'.
Pressed Cookies:  Make the Sugar Cookie dough. If you like, you can color the dough with some food coloring from the natural food store (made with natural ingredients / no chemicals). Place in a cookie press and press shapes on a baking surface. Decorate with sprinkles. Bake according to the above directions.