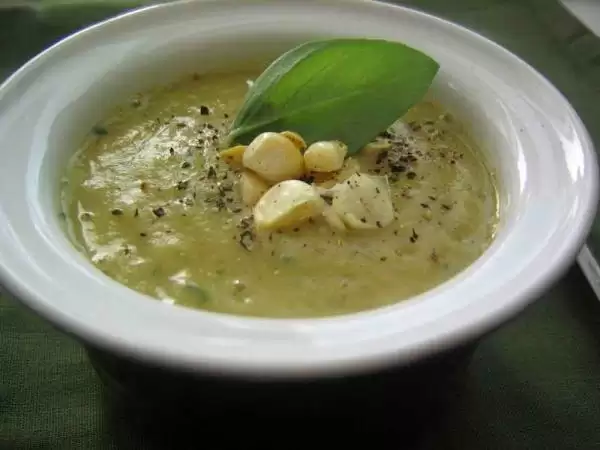 Caption: Image: CC--rusvaplauke
Celiac.com 01/12/2019 - Green chile corn soups and stews are a New Mexico staple. A bit of cream and thicker, and presto, the soup becomes a chowder. Easy to make, hearty and delicious, this blend of green chiles, corn, potatoes, parsley, and zucchini are married with onion, gluten-free chicken broth, white pepper and liquid smoke to create a rich, chowder that is sure to please. 
Ingredients:
2 pounds potatoes, peeled, and cubed
8 ounces Hatch or any New Mexico Green Chile—roasted Peeled, seeded and finely chopped (Use Anaheim chiles in a pinch)
4 cups chicken broth
1 Fresh jalapeño, seeded and finely chopped
1½ cups corn kernels
2½ cups of water
1 cup chopped zucchini or yellow squash
1 cup medium onion, finely chopped
2 cups milk
½ cup cream
1 tablespoon cooking oil
¼ teaspoon white pepper
½ teaspoon chopped parsley
Cheddar cheese for topping, shredded
Mix 2-3 tablespoons of corn starch with ⅓ cup of warm water. Add a bit at a time to thicken as desired.
---
Celiac.com Sponsor (A12):


---
---
Celiac.com Sponsor (A12-m):


---
Directions:
Sauté the onion in the cooking oil until clear.

Add the green chile, jalapeño, potatoes, corn, salt, pepper and chicken broth. 

Bring to boil. 

Reduce heat and simmer 20 minutes.

Strain liquid from potato, green chile and onion mixture and reserve 3 cups cooking liquid. 

Mash half of the potato, chile and onion mixture. Reserve the other half. 

Add water, white pepper, parsley, and remaining green chile and potatoes. 

Add ⅓ of the corn starch mixture and stir well. Stir in another ⅓ once you notice the soup thickening a little. The remaining corn starch can be added as needed to achieve desired consistency. You might not want to use all of it. If you use too much, add a bit of water or milk.

Raise heat, stirring with wire whisk until thickened. 

Add milk and cream to thickened liquid and continue to stir until it comes to a simmer. 

Turn off heat. Add mashed potato, chile and onion mixture. 

Stir in and blend well. Add reserved cubed potatoes, chiles and onions. Blend well.

Top with sharp shredded Cheddar cheese and cilantro, and serve with gluten-free tortillas and tortilla chips.