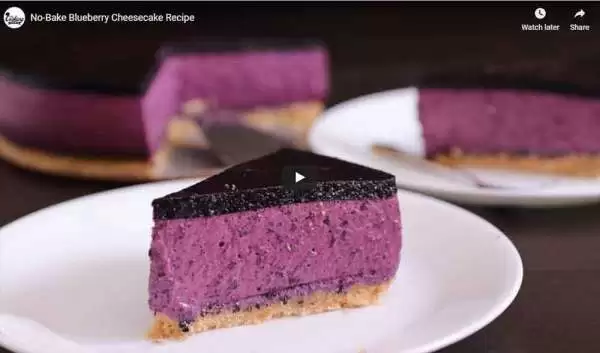 Caption: Image: thecookingfoodie.com
Celiac.com 12/07/2019 - Our recipe for Gluten-Free No Bake Cheesecake with cherries was one of our most popular recipes of all time. This gluten-free no-bake cheesecake recipe comes to us via thecookingfoodie.com, and and looks every bit as enticing as ours. We've included a link to the video. Remember, we modified the original version to be gluten-free, so keep that in mind if you watch the video. 
Gluten-Free No Bake Blueberry Cheesecake Video:
Gluten-Free No Bake Blueberry Cheesecake
---
Celiac.com Sponsor (A12):


---
---
Celiac.com Sponsor (A12-m):


---
Ingredients:
Almond Crust:
¾ cup finely crushed almonds
¾ cup almond meal
2 tablespoons granulated sugar
2-3 tablespoons butter, room temperature
Filling:
3 cups blueberries fresh or frozen
2 tablespoons granulated sugar
2 cups cream cheese
⅔ cup heavy cream
1 teaspoon vanilla extract
1 tablespoon lemon juice
1 cup powdered sugar or less if your blueberries are sweet
2 teaspoons gelatin powder
¼ cup cold water
Topping:
1½ teaspoons gelatin powder + 2½ tablespoons cold water
1¾ cups blueberries fresh or frozen
2 tablespoons sugar
⅓ cup cold water
Directions:
Gluten-Free Almond Meal Crust
Use a pre-made gluten-free crust, or make from scratch with crushed almonds and almond meal.
Place all nut crust ingredients in a mixing bowl and mix well. Add melted butter slowly, and mix until combined. 
Lightly coat the bottom and sides of an 8-inch springform pan with oil. Pour the nut crust mixture into the pan.
Use the bottom of a measuring cup or glass to press the crumbs down into the bottom and 1-inch up the sides of the pan.
Place crust in oven and bake about 5 minutes, or until the crust is slightly browned. Remove and refrigerate while making the filling.

Cheesecake Filling
In a small saucepan, heat blueberries, lemon juice and sugar until sugar dissolves and the berries soften. Blend until smooth, and allow to cool.
 
Stir gelatin powder and water into a small bowl, as per instructions. Allow to bloom for 10 minutes.
In a large bowl, beat cream cheese until soft and smooth, add heavy cream, vanilla extract and beat to soft peaks. Add chilled blueberry mixture and mix until smooth.
Melt the gelatin in the microwave for 15 seconds. 
Temper the gelatin by slowly adding a few tablespoons of the cheesecake mixture into the dissolved gelatin and stir until combined. 
Stir back into the cheesecake mixture and keep stirring until combined.
Pour mixture into the springform pan, spread evenly. 
Freeze for 1 hour while you make the topping.

Blueberry Jelly Topping
In a small bowl stir gelatin powder and water. Let bloom for 10 minutes. 
In a small sauce pan place 180g blueberries, water and sugar. 
Cook over medium-high heat, stirring occasionally until the sugar is dissolves. 
Remove from heat, blend until smooth. 
Add bloomed gelatin and stir until the gelatin is melted and incorporated. 
Let cool to room temperature and pour over the cake.
Refrigerate the cake overnight.
 
Cut into wedges while still cool. Serve chilled, or at room temperature.