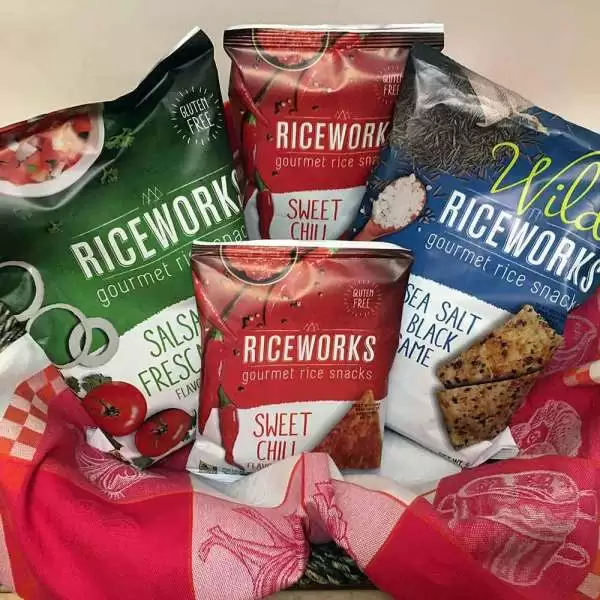 Caption: Riceworks Salsa Fresca, Sea Salt & Black Sesame, and Sweet Chili.
Celiac.com 05/17/2019 - If you're lucky a product's name will tell you exactly how it will taste. Most of the time this isn't the case, and its name may not tell you much about its flavor. I got lucky when I tried Riceworks' Salsa Fresca, Sea Salt & Black Sesame, and Sweet Chili chips, and found that each flavor of these wonderful gluten-free snacks perfectly fit their names.
Riceworks chips are lighter than normal tortilla chips, probably because they are made using brown rice and rice flour, in combination with corn flour. They are similar to corn chips, but definitely lighter, crunchier, and easier on your teeth than a typical corn tortilla chip. Each flavor also contains sesame seeds.
---
Celiac.com Sponsor (A12):


---
---
Celiac.com Sponsor (A12-m):


---
The Riceworks Salsa Fresca tastes as good as it sounds—like you are eating a light, crispy tortilla chip covered in the best salsa ever—except you don't need the salsa. These chips really pack a ton of flavor in each bite, and this makes it hard to stop eating them! The Salsa Fresca flavor is perfectly balanced and the salsa flavor comes from the generous amount of herb and spice flavoring that cover each chip. They have a zesty and slightly spicy taste.

The Riceworks Sweet Chili chips also taste like they sound—sweet up front, with a nice chili pepper finish. I love the combination of sweetness and chili. Even though the seasonings are generously applied, the chips were not too spicy, so it was easy to eat far too many of these as well...which I did! The Sweet Chili chips were my favorite flavor of the three.

The Riceworks Sea Salt & Black Sesame chips were light and crunchy with a nice sesame aftertaste. I think these chips would be the best out of the three flavors to use for dipping, and they work well with every dip I tried, including hummus, ranch-style dip, and good old salsa.

Overall Riceworks Gourmet Rice Snacks have done an outstanding job with these snacks, and they also make three additional flavors that sound great, including: Sundried Tomato, Sea Salt, and Black Japonica Rice. I can't wait to try them! 

 Visit their site for more info.