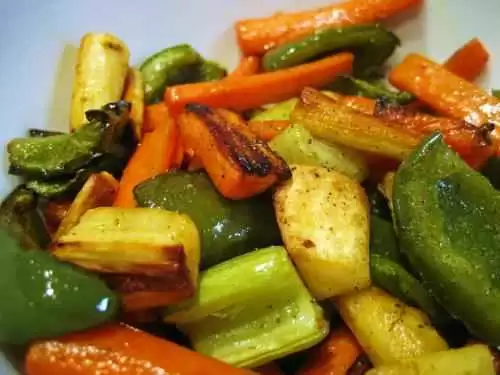 Caption: The finished roasted vegetable salad. Photo: CC--Stacy Spensley
Celiac.com 01/06/2018 - Looking for a salad that will warm your soul, and put a smile on your face in the middle of a winter blizzard? Look no further. This salad of roasted winter vegetables is just the thing for supper on a chilly night. Serve it alongside a juicy roast, or a steaming casserole, and watch it disappear.
Ingredients:
8 cups torn lettuce leaves
4 cups of torn radicchio leaves
2 cups of fresh spinach leaves
4 small white turnips, trimmed, roasted, sliced
4 medium golden or red beets, roasted, sliced
1½ cups of butternut squash, roasted, cut to bite size pieces
2 carrots, peeled, roasted, and grated
1 large head fennel, roasted, sliced
6 asparagus spears, roasted and sliced
8-10 green beans, roasted and sliced
1 cup broccoli florets, roasted and chopped
2 Red, yellow or orange bell peppers, roasted and sliced
2 Zucchini, roasted and sliced
8 Brussels sprouts, roasted and sliced
---
Celiac.com Sponsor (A12):


---
---
Celiac.com Sponsor (A12-m):


---
For Serving:
Goat cheese or queso fresco
Candied Pecans or walnuts
Tangerine, mandarin, or grapefruit wedges, as desired
Parmesan cheese, grated, as desired for serving
Directions:
Toss the lettuce and radicchio in a large salad bowl, and set aside.
Roast the turnips, beets, squash, fennel, carrots, asparagus, green beans, Brussels sprouts, zucchini, broccoli and peppers. Remove vegetables one by one as they become tender.
Allow vegetables to cool slightly.
Add roasted vegetables to the lettuce and radicchio bowl, and blend gently.
Scoop onto plates and top with a balsamic vinaigrette for amazing flavor!
Add condiments as desired.