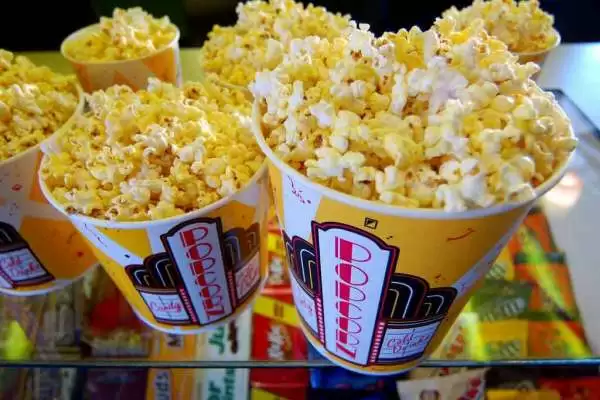 Caption: Image: CC BY 2.0--y entonces
Celiac.com 09/22/2020 - Just in time for snack season, here are thirty-five of America's top gluten-free popcorn brands. 
Corn is naturally gluten-free, and so is popcorn, unless it's got added gluten ingredients. However, many brands do not label their popcorn as gluten-free, and many popcorn brands may be made on equipment that processes wheat, rye or barley. To some people that's not necessarily a big deal, but many others like to play it safe and avoid any possibility of cross-contamination. 
---
Celiac.com Sponsor (A12):


---
---
Celiac.com Sponsor (A12-m):


---
These brands go the extra mile to make sure their popcorn products are  labeled "Gluten-Free." That means that you can breath extra easy about serving them to people with celiac disease.
Major Brands of Gluten-Free Popcorn include:
365 Everyday Value
Organic Classic Salted Popcorn
Organic Reduced Fat & Sodium Popcorn
Organic White Cheddar Popcorn
Pumpkin Pie Caramel Popcorn
Spicy Jalapeno White Cheddar Popcorn
Toffee Popcorn Crunch
Angie's Artisan Treats
Boomchickapop Frosted Cupcake Kettle Corn
Holidrizzle Boomchickapop Frosted Sugar Cookie Kettle Corn - Purple Sprinkles
Holidrizzle Boomchickapop Frosted Sugar Cookie Kettle Corn - Red Sprinkles
Holidrizzle Boomchickapop Lemon Drop Flavored Kettle Corn
Holidrizzle Pumpkin Spice Flavored Popcorn
Organic Boomchickapop Lightly Sweet Kettle Corn
Organic Boomchickapop Sea Salt Popcorn
Angie's Boomchickapop
Angie's Boomchickapop Cheddar/Caramel 
Angie's Boom Chick A Pop Popcorn 
Angie's White Cheddar
Angie's Boomchickapop Og Sea Salt
Angie's Boomchickapop Og Sweet & Salty 
Angie's Sweet & Salty
Angie's Sweet Bbq
Apple Cinnamon Kettle Corn & Fruit 
Boomchickapop Lightly Sweet
Boomchickapop Sea Salt
Boomchickapop Caramelized Maui Onion Popcorn
Boomchickapop Dill Pickle Flavored Popcorn
Boomchickapop Fire-Roasted Tomato Basil Popcorn 
Boomchickapop Hot Cocoa Marshmallow Kettle Corn
Boomchickapop Roasted Black Garlic Popcorn
Boomchickapop Sea Salt & Vinegar Popcorn
Caramel Popcorn 
Cheddar Popcorn
Canada Chile Lime Popcorn
Cinnamon Roll Kettle Corn 
Cocoa Kettle Corn
Milk Chocolate Peanut Butter Popcorn 
Milk Chocolaty Cupcake Popcorn 
Mixed Berry Kettle Corn & Fruit
Real Butter Popcorn
Real Butter Popcorn
Real Butter Popcorn
Canada Strawberry Banana Kettle Corn & Fruit
Angie's Kettle Corn
Angie's Kettle Corn
Angie's Lite Kettle Corn
Dark Chocolate Sea Salt Holidrizzle Kettle Corn
Holidrizzle Dark Chocolate Sea Salt Kettle Corn
Holidrizzle Iced Gingerbread Kettle Corn
Salted Caramel Kettle Corn
Spooky Candy Corn Flavored Kettle
Alphabetical List of Certified Products Corn
White Chocolatier Peppermint
Holidrizzle Kettle Corn
Arrowhead Mills
Organic Blue Popcorn
Organic Gluten Free Yellow Corn Grits Organic White Popcorn
Yellow Popcorn
Boulder Canyon
Boulder Canyon Popcorn Avocado
Oil & Sea Salt
Boulder Canyon Popcorn Coconut
Oil & Sea Salt
Cape Cod
Jalapeno Infused Potato Chips Kettle Corn
Kettlecorn
Mediterranean Infused Potato Chips Popcorn
Sea Salt Popcorn
White Cheddar Popcorn
Captain Season's - Gluten-Free Popcorn Seasoning
Captain Season's Barbecue
Captain Season's Butter
Captain Season's Dill Pickle
Captain Season's Jalapeno
Captain Season's Ketchup
Captain Season's Kettle Corn Captain Season's Nacho Cheddar Captain Season's Parmesan & Garlic Captain Season's Ranch
Captain Season's Salt & Vinegar Captain Season's Sour Cream & Onion Captain Season's White Cheddar Captain Season's Ketchup Popcorn
Seasoning
Drizzle Brittle Caramel
Clancy's 
Popcorn
Deliteful Popcorn
Cousin Willies
Cousin Willie`s Simply Better Kettle Corn
Simply Better - Butter 
Simply Better - Kettle Corn 
Simply Better - Mauve, Yellow, White (Raw Popcorn)
Simply Better - Real Butter Microwave Popcorn
Simply Better - Sea Salt (Ready To Eat) Simply Better - Sea Salt Microwave Popcorn
Simply Better - White Cheddar (Ready To Eat)
Simply Better - White Cheddar Microwave Popcorn
Simply Better- Sea Salt (Ready To Eat) Simply Better- White Cheddar (Ready To Eat)
Simply Better-Butter (Ready To Eat)
Covered Bridge 
Movie Butter Popcorn
Sweet N Salty Popcorn
White Cheddar Popcorn
Crunchy Rob's
Bangin' Cheddar Popcorn
Brazilian Coconut Popcorn
Himalayan Pink Salt Popcorn 
Mild Pineapple Habanero Popcorn
Earth Balance
Vegan Buttery Popcorn
Vegan White Cheddar Popcorn
Gary Poppins Popcorn
Olive Oil & Himalayan Pink Salt Popcorn
Sea Salt Popcorn
Gaslamp Popcorn
Apple Crumble Pie Cinnamon Caramel Popcorn Holiday Cookie
Kettle Corn
Malibu Mix
Mango Habanaro Salsa Olive Oil Popcorn
Pumpkin Spice Pie
Sweet Fiesta Lime
White Cheddar Popcorn
Gold Emblem Abound
CVS Gold Emblem Abound Black Pepper Heavenly Light Popcorn
CVS Gold Emblem Abound Heavenly Light Bacon Flavored Ranch Popcorn
CVS Gold Emblem Abound Heavenly Light Spicy Sriracha popcorn
CVS Gold Emblem Abound Jalapeno Cheddar Quinoa Puff
CVS Gold Emblem Abound White Cheddar Popcorn
CVS Gold Emblem Abound White Cheddar Quinoa Kale Puff
CVS Gold Emblem White Cheddar Puff
CVS Gold Emblem Heavenly KC Bbq Popcorn
CVS Gold Emblem Abound Heavenly Light Kettle Corn
CVS Gold Emblem Abound Heavenly Light Popcorn Cvs Abound Heavnly Light Black Pepper Popcorn
CVS Gold Emblem Abound Heavenly Light White Cheddar Type Flavored Popcorn
Jolly Time
Kinda Sweet...Kinda Salty Popcorn 
Sea Salted Popcorn
White Cheddar Popcorn
Kernel Season's
Cheesy Jalapeno Crunch N Kernels (6Oz)
Crunch `N Kernels - Kettle Corn Crunch `N Kernels - Ranch
Crunch `N Kernels - Salted
Crunch `N Kernels - White Cheddar Crunchin' Kernels
Drizzle Brittle Chocolate
Drizzle Brittle Maple
Kernel Season`s Apple Cinnamon Popcorn Seasoning
Kernel Season`s Barbecue Popcorn Seasoning
Kernel Season's Caramel Popcorn Seasoning
Kernel Season's Cheesy Caramel Popcorn Seasoning
Kernel Season's Jalapeno Popcorn Seasoning
Kernel Season's Kettle Corn Popcorn Seasoning
Kernel Season's Sour Cream & Onion Popcorn Seasoning
Kernel Season's Stick Pack Kettle Corn Kernel Season's Stick Pack NachoCheddar
Kernel Season's Stick Pack White Cheddar
Kernel Season's Apple Cinnamon Popcorn Seasoning
Kernel Season's Bacon Cheddar Kernel Season's Barbecue Popcorn Seasoning
Kernel Season's Buffalo Wing Kernel Season's Butter Popcorn Seasoning
Kernel Season's Cajun Popcorn Seasoning
Kernel Season's Caramel Popcorn Seasoning
Kernel Season's Cheesy Jalapeno Kernel Season's Chili Lime PopcornSeasoning
Kernel Season's Chipotle Cheddar Popcorn Seasoning Kernel Season's Chocolate
Marshmallow Popcorn Seasoning Kernel Season's Dill Pickle Popcorn Seasoning
Kernel Season's Jalapeno Popcorn Seasoning
Kernel Season's Kettle Corn Popcorn Seasoning
Kernel Season's Milk Chocolate
Caramel Popcorn Seasoning Kernel Season's Movie Theatre Butter
Popping & Topping Oil Kernel Season's Nacho Cheddar Popcorn Seasoning
Kernel Season's Parmesan & Garlic Popcorn Seasoning
Kernel Season's Popcorn Salt Popcorn Seasoning
Kernel Season's Popcorn Spritzer Kernel Season's Popping Corn Kernel Season's Pumpkin Spice Popcorn Seasoning
Kernel Season's Ranch Popcorn Seasoning
Kernel Season's Salt & Vinegar Popcorn Seasoning
Kernel Season's Sour Cream & Onion Popcorn Seasoning
Kernel Season's South Texas Barbecue Kernel Season's White Cheddar Popcorn Seasoning
Kettle Corn Crunch N Kernels
Original Crunch N Kernels
Ranch Crunch N Kernels
Spicy Movie Theater Butter
Kettle Brand
Rte Jalapeno Popcorn
Rte Maple Bacon Popcorn
Rte Salt & Pepper Popcorn
Rte Sea Salt Popcorn
Rte Sriracha Popcorn
Rte White Cheddar Popcorn
KettlePop
Organic Kettle Popcorn 
Organic Sea Salt Popcorn
Live Love Pop
Live Love Pop Cheddar & Sour Cream Popcorn
Live Love Pop Honey Bbq Popcorn Live Love Pop Lime Fresco Popcorn Live Love Pop Salt & Vinegar Popcorn Live Love Pop Sea Salt Popcorn
Live Love Pop Truffle Salt Popcorn Salt & Vinegar
Sea Salt
Truffle Salt
OrganicPOP
Ancient Grains Popcorn
Farmhouse Butter Popcorn
Heartland Cheddar Popcorn
Organicpop Lite Popcorn
Roasted Garlic And Kale Popcorn
Our Little Rebellion
Popcorners Carnival Kettle / Sweet Salty
Popcorners Carnival Kettle Popcorners Carnival Kettle
Popcorners Cheddar Feel-Good Popcorners Cinema Style
Popcorners Salt Of The Earth Popcorners Smokin` Jalapeno Cheddar
Popcorners Sweet Heat Chili Popcorners Sweetly Salted
Popcorners Carnival Kettle 
Popcorners Cheddar Feel-Good 
Popcorners Salt Of The Earth 
Popcorners Smokin` Jalapeno Cheddar
Popcorners Sweet Heat Chili
Popped Protein Chips Bbq (Mexico)
Popcorners Carnival Kettle
Popcorners Cheddar Feel-Good Popcorners Cinema Style
Popcorners Salt Of The Earth Popcorners Smokin` Jalapeno Cheddar
Popcorners Sweet Heat Chili Popcorners Sweetly Salted Caramel
Popcorners Double-Up Fudge
Popcorners Snickerdoodle Drizzle
Popcorners Carnival Kettle
Popcorners Cheddar Feel-Good
Popcorners Cinema Style
Popcorners Salt Of The Earth
Popcorners Smokin` Jalapeno Cheddar
Popcorners Sweet Heat Chili
Popcorners Sweetly Salted Caramel
Popcorners Carnival Kettle
Popcorners Cheddar Feel-Good 
Popcorners Cinema Style
Popcorners Kettle Corn (Redesign) 
Popcorners Smokin` Jalapeno Cheddar
Popcorners Sweet Heat Chili 
Popcorners Sweetly Salted Caramel
Popcorners Butter
Popcorners Caramel 
Popcorners Cheesy Jalapeno 
Popcorners Kettle 
Popcorners Sea Salt
Popcorners Sweet Chili
Popcorners White Cheddar
Popcorners Whole Grain MemphisBbq
Popcorners Whole Grain Sweet Cinnamon
Popcorners Whole Grain Twisted Salt
Pop Art Gourmet Popcorn
Cheddar Jalapeño Popcorn
Cheddar Jalapeno Popcorn 
Chipotle Caramel And Cheddar Cheese Mash-Up 
Gingerbread Caramel Gourmet Popcorn
Gingerbread Caramel Holiday Tin 
Hawaiian Black Sea Salt
Honey Caramel And Feta Cheese Mash-Up
Nori Sesame Gourmet Popcorn
Pepper Parmesan Popcorn 
Rosemary Truffle Popcorn 
Tandoori Yogurt Popcorn
Thai Coconut Curry Popcorn
POP! Gourmet Popcorn
Fire Corn - Real Jalapeño Popcorn
Salted Caramel Popcorn
Sriracha Popcorn
Popcorn, Indiana
Chicago Style Popcorn 8 Oz.
Fit Family Olive Oil 
Fit Family Real Butter 
Fit Family Real Butter  
Fit Family Sea Salt 
Fit Family  Olive Oil 
Fit Family  Real Butter 
Fit Family  Sea Salt  Can 
Himalyan Pink Salt Popcorn
Kettle Popcorn 
Pop Club Kettle 
Pop Doll B&W 
Pop Doll Chocolate Pb  
Pop Family Aged White Ch 
Pop Family Aged White Cheddar
Pop Family B&W Drz 6Oz
Pop Family Chocolate Pb 
Pop Family Chocolate Pb
Pop Family Dark Fudge Sea Salt Caramel 5Oz
Pop Family Jalapeno
Pop Family Kettlecorn
Pop Family Movie Theater Family 
Pop Family Sea Salt Family 
Pop Family Sriracha
PopCorners
Popcorners Carnival Kettle / Sweet Salty
Popcorners Spicy Queso
Popsalot Gourmet Popcorn
Brazilian Almond
California Almond
Clandestine Caramel
Clandestine Caramel - Single Serve Costa Rican
Hawaiian Macadamia London Kettle
London Kettle - Single Serve Moroccan Harissa
Saigon Cinnamon
Saigon Sunrise - Single Serve Southern Pecan
Ricos
Butter Popcorn
Cheddar Popcorn
Kettle Popcorn
White Cheddar Jalapeno Popcorn
White Cheddar Popcorn
SkinnyPop Popcorn
Organic Aged White Cheddar 
Organic Popcorn
Skinnypop Popcorn Mini Cakes Skinnypop Popcorn Mini Cakes Cinnamon Sugar
Skinnypop Popcorn Mini Cakes Sharp Cheddar
Skinnypop Real Butter Popcorn
Sprouts
Organic Popcorn Himalayan Pink Salt & Coconut Oil
Organic Popcorn Lightly Buttered 
Organic Popcorn Lightly Sea Salted
The Little Kernel
The Little Kernel - Butter
The Little Kernel - Naked
The Little Kernel - Sweet & Salty
The Little Kernel - Truffle Sea Salt
The Little Kernel - White Cheddar
The Little Kernel Mini Popcorn Smores
The Little Kernel Mini Popcorn Sweet & Salty Kettle
The Little Kernel Mini Popcorn White Cheddar 
The Little Kernel Mini Popcorn Pink Himalayan 
Alphabetical List of Certified Products
 The Little Kernel Mini Popcorn Pink Himalayan
The Little Kernel Mini Popcorn Smores 
The Little Kernel Mini Popcorn Truffle Sea Salt 
Trader Joe's
Caramel Popcorn
Chicago Style Popcorn Mix
Hol Popcorn Pumpkin Caramel
Vic's
Butter Flavor Popcorn
Kettle Style Popcorn 
Lite Popcorn
Lite Popcorn-Half Salt
Lite White Popcorn
White Cheddar Popcorn