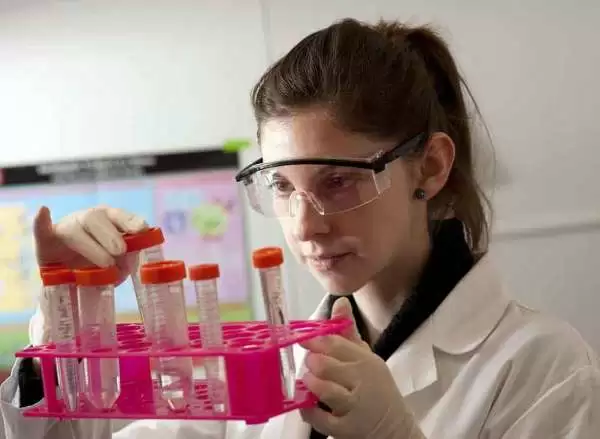 Caption: Image: CC BY 2.0--National Eye Institute
Celiac.com 06/11/2020 - Who should get screened for celiac disease? Traditionally, doctors test for celiac disease, based on the following factors:
Signs and symptoms of malabsorption, including chronic diarrhea with weight loss, steatorrhea, abdominal pain after eating, and bloating, or:
Laboratory evidence of malabsorption, particularly in people who have a first-degree family member with a confirmed celiac disease diagnosis. This includes associated nutritional deficiencies, or:
A personal history of an autoimmune disease, or an IgA deficiency, or:
Biopsy-proven DH, iron-deficiency anemia refractory to oral supplementation, or hypertransaminasemia with no other origins.
So who, exactly, should be screened for celiac disease?
Celiac Disease Screening Recommendations per Organization:
---
Celiac.com Sponsor (A12):


---
---
Celiac.com Sponsor (A12-m):


---
The North American Society for Pediatric Gastroenterology, Hepatology, and Nutrition (NASPGHAN)
Recommends celiac disease screening in asymptomatic children who have conditions associated with celiac disease, including type 1 diabetes mellitus, autoimmune thyroiditis, Down syndrome, Turner syndrome, Williams syndrome, selective IgA deficiency, and first-degree relatives of celiac patients. 

It recommends testing asymptomatic children who are at risk beginning around age 3 years, provided they have had an adequate gluten-containing diet for at least 1 year before testing. It recommends that asymptomatic persons with negative serology who are at risk be considered for repeat testing.

The American College of Gastroenterology 
Recommends that asymptomatic persons with a first-degree relative who has a confirmed diagnosis of celiac disease be considered for testing. Patients with type 1 diabetes mellitus should be tested for celiac disease if there are any digestive symptoms, signs, or laboratory evidence suggestive of celiac disease.

The U.K. National Institute for Health and Care Excellence 
Recommends offering serologic testing for celiac disease to persons with a first-degree relative with celiac disease or persons with type 1 diabetes mellitus or autoimmune thyroid disease upon diagnosis. 

They also recommend considering serologic celiac testing for persons with metabolic bone disorder (reduced bone mineral density or osteomalacia), unexplained neurologic symptoms (particularly peripheral neuropathy or ataxia), unexplained sub-fertility or recurrent miscarriage, persistently elevated liver enzymes with unknown cause, dental enamel defects, Down syndrome, or Turner syndrome.

Based on more recent study data, many doctors are beginning to do celiac screening in patients with:

Anemia
A 2014 study showed that celiac disease is common in people with unexplained autism. The study team recommends celiac screening for anyone with unexplained iron-deficient anemia.

Autism
People with autism have celiac disease at rates almost 20 times higher than in those without autism, reported lead investigator Daniel Karb, MD, a second-year resident at University Hospitals Case Medical Center in Cleveland. As such, many doctors now recommend celiac screening for people with autism.

Autoimmune Disorders
Researchers urge primary care doctors to adopt a practice of celiac screening for all people with elevated risk factors, including people with a family history of celiac disease, people with Addison's disease Down Syndrome type 1 diabetes, thyroiditis, Turner syndrome, and type 1 diabetes. The team also called for screening of patients with short stature, iron deficiency anemia, and high transaminase levels.

First-degree Relatives of Celiacs
A Mayo Clinic team found celiac disease in 160 of 360 first-degree relatives of celiac patients, while 62% of those relatives found to have celiac were women. Most doctors now recommend testing first degree relatives of celiac disease patients.

IgA Deficiency
The North American Society for Pediatric Gastroenterology, Hepatology, and Nutrition recommends testing for celiac disease in asymptomatic children who have conditions associated with celiac disease, including selective IgA deficiency.

Unexplained Neuropathy
Patients with unexplained neuropathy, or small fiber neuropathy should be screened for celiac disease and gluten-sensitivity, according to researchers.

Consider Celiac Screening for Top Physical Complaints
People with any one or more of the Ten Most Common Complaints of Celiac Patients, might want to consider the possibility of celiac disease, look for any other celiac-related symptoms, and consult a doctor if they suspect celiac disease. The ten most common physical complaints of people who have celiac disease are: Osteopenia/Osteoporosis; Anemia; Cryptogenic hypertransaminasemia; Diarrhea; Bloating; Aphthous stomatitis; Alternating bowel habit; Constipation; Gastroesophageal reflux disease and Recurrent miscarriages.

Most People with Celiac Disease Show No Symptoms
Remember that most people who are diagnosed with celiac disease show no symptoms at the time of their diagnosis.

What's Involved in Celiac Disease Screening?
Find out what's involved in screening and testing for celiac disease.