Turkey Week-i Could Make A Movie From This.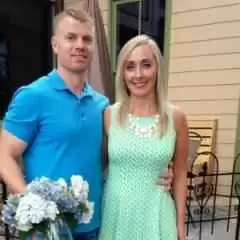 Totally Gluten-Free turkey day again, but this time at my house with my Major's mother and my mom&stepdad all in from FL
---
Celiac.com Sponsor (A13):


---
---
Celiac.com Sponsor (A13-m):


---
We did lots of fix-it stuff on my new house (bank repo)
Parents woke at 4am (FL time 7am) and went to 24 hr Wal-Mart to buy me "appropriate" dishes and silverware (mine isn't heavy enough) for my belated birthday gifts.
My stepdad forgot to take his blood pressure meds on Tuesday (day 3)and blew his top and went MIA in the rental car.
Didn't hear from him till Wed. night-he'd flown back home.
Mom plugged up my sink by putting a whole bowl of broccoli down at once. Then when I used the hex wrench and the reset button, to no avail, and wanted to disassemble the pipes to get a clog out, she said we'd need special tools and made me call the plumber. $140 later, plumber said I could've done it myself. The pipes are plastic and you undo them with your hands.
Our yardwork day yielded a giant pile of brush that needed to be hauled. Guy drives by slowly and offers me half the price the other dude wanted and gets out his machete and packs it all in!
Meanwhile, carpet cleaner dude (and wife), 2 electricians (boys installing chandeliers), and furniture delivery dude all arrive at same time. All were cheerful and enjoying our sweet smelling foods we were cooking in the dark.
While in the midst of spackling holes in the walls, I had to pick up my Major's mom who was stranded at the airport. I've never met her, so I showered quick, my mom was drying my hair while I smeared on makeup! I have a 2 seater car so mom had to stay home while I entertained the lady in Palm Springs until our Major could get her.
She is a former teacher, so we got along awesome, but she did tell everyone she said the rosary to cope with my driving.
Tried a fresh turkey (not frozen) this year- Sheldon's- and it was good.
Told mom to cook the gluten-free stuffing OUT of the bird, but she said that was "UnAmerican" and it turned out like sludge. Had to chuck it.
Planned on making the normal gluten-free pie crust mix, but a friend said to use her recipe- but it burned after only 15 minutes in the oven. So, how do you fill it with apples and cranberries that bake for 45 min.?
Tried again to cook the apples separately, and that worked. Weird.
Sylvan Farms dark brown bread mix a success, again. Everyone ate it. Even my mom.
Sink got clogged with sweet potato skins and I had to disassemble it b4 guests arrived in my red dress.
My mom announced to everyone that they need to expect our food to taste a little "weird". ugh
Everyone was eating appetizers (brie and Trader Joe's crackers, crudite with hummus, and 7 layer bars) and told her they couldn't tell a thing. Those crackers are AMAZING, even mom had to admit.
Everyone enjoyed the sunset view at my house (no neighbors across street-only dry riverbed and walking path)
Major lured me into my closet and mauled me with our parents in the next room.
Our guests stayed until 11PM, so I guess they had a great time.
Mom has pics of most of this (even the fix-it guys)...I posted on my fb. lol