Bday Cake, Girls Weekend, And Holiday Parties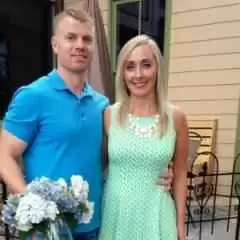 I had coconut cake, cupcakes, and brownies for my birthday. My best friend was going to be in Vegas for my bday, and so she invited me and I invited my other friend from New Orleans. It was so fun. My Major was still away, so it was perfect for just girls. My bff carried 2 bakery boxes on the plane from Texas! (From Lil' Aussie Bakery in San Antonio-2die4.) I am so lucky! She eats gluten free stuff with me, and she also orders it when she's out, just to try it for me and to keep up the demand. Her fiance likes a lot of the gluten-free food. My Major has been eating the bread- he makes breakfast for me now at my house in my gluten free kitchen, so I'm happy.
---
Celiac.com Sponsor (A13):


---
---
Celiac.com Sponsor (A13-m):


---
We only ate only once each day (so not much food pressure), at
In N Out
(which they were Jonesing for, since they don't have it@home) and steak n lobster in the hotel (NYNY)on my bday (I had to switch seats, as I was facing a giant display of baguettes)and nibbled the gluten-free baked goods in the hotel room,went on the gondola, where we encouraged the couple across from us to kiss under the bridge, and they responded that they've been married 50 years and that's over, no kissing anymore. Talk about uninspiring. We got on the guest list for the 4 clubs at the Palms and we liked the
Playboy club
the best. Good music (not trance or techno) and not too crowded...and free. We shopped- her for souvenirs and me for shoes, sat front-row at the Chippendales (saw a totally inspiring bachelorette group dressed as
Harajuku girls
(Japanese fashionista types) with petticoats and babydoll hair and the whole nine- If my bff ties the knot, we're doing that for her!), (I remembered my favorite scene (from a girls weekend 5 yrs ago) with the motorcyle guy, but added new faves: like, the one in the dark with the guy rubbing glow-in-the-dark paint on himself

. The military acts were downer, making me miss my marine.

Plus there was a Marine Birthday Ball going on in Vegas, and tons of Marines dressed in their blues all over. One grabbed me! It was kind of annoying to be reminded of my Major when I really missed him from his long trip and I was trying to keep my mind off of it. :lWe got a 2 for $99 deal on the "sensual" side of Cirque du soleil,
"Zoomanity",
which pushed the envelope quite a bit, very overt sexuality, I thought. I did like the contortionists diving into the giant fishbowl, though. got facials at the spa, caught a Prince impressionist show, and just enjoyed people-watching.
When I arrived home, my Major was there within the hour and we continued the bday celebration, after him being gone a month.Major M's surgery was delightfully postponed, so I had 2 days' notice that I was going back to Vegas for the Ball. Had fun searching for a dress, with 2 sales ladies whisking in red, white, and blue gowns and bejeweling me with rhinestone and crystals. I texted my friends and mom the pics and they all weighed in on their choices (even my mom's coworkers, lol). I picked the one they liked, a backless blue satiny Jessica McClintock. I'd researched "What not to wear to Marine Corps Balls" and other sites, and since he's been deployed he hasn't been to one in 4 years! So, I wanted to make it "all about my marine" and support him, but I ended up enjoying every minute of it! (There were a few ladies who hadn't read the article,

)
When I stepped out and first saw him in his dress blues, my breath caught. It was jaw-dropping. Since he's a major, he doesn't have the white belt

, but he does have all these cool gold medal leaves on his cover and his shoulders. I love those leaves! He has a stunning smile and he's a redhead with green eyes, and may I just say God Bless the U.S. Marines for their "Semper fitness"! Those broad shoulders that make a V shape down to that 32 inch waist. Thank you, sir!
I mingled with the other ladies, took lotsa pictures, danced, was surprised when we weren't asked how we met (didn't get to use our pre-determined story about meeting the night before and me working at a gentleman's club, boohoo), bc people kept asking how long we've been married! What a shock. ANd you know how I feel about that! Yuck! But, deciding to roll with it, I did tell how the cabbie said he'd driven a few marines to the chapel, and how I might get the Major there by night's end. One 66 yr old woman grabbed my arm as we were saying our goodbyes and said that she'd "stand up" for us if we decided to go ahead and do the drive thru! 2 funny!
Afterwards, a dozen of us (Majors and wives, dates)took a stretch SUV limo to the Palms and got VIP treatment by the hotel people, as well as random people just buying us drinks and VIP booths just as a thank you to the Marines for their service. I was glad to see them treated so well. They deserve it, and I was just along for the ride. So generous. I danced until my shoes came off (bebe crystal silver ones) and shot craps until I'd won my Major and a lt. colonel hundreds of dollars (Major let me bet for him, so he could learn), and people were shouting, Come on, Lady Luck!
On another note, it was heart-wrenching for me to look at each marine's medals (I'd asked the Major for a crash-course in medal-reading b4hand), seeing how many deployments, and how many V's for valor, and asking them about their families. They are truly noble and inspiring.
As far as holiday shindigs, our celiac one was pretty fun. The food was fair, I brought Asian Chicken. The dessert table was the show-stopper. Some chocolate haystack looking things that were crunchy on the outside, but creamy like a meltaway in the middle were divine. As were these soft, pumpkin cookies- sandwiched with cream in the middle. Whoah, Mama!
I was full. Which is a once or twice a year feeling for me. Well done.
Feasting::::::::::::
I didn't eat at the Marine Corps Ball (I'd eaten a shrimp c%$#$tail at our hotel b4hand-the Monte Carlo, which was reasonably priced and beautiful). There was a buffet, and I didn't envy anything except the dessert. It all smelled gross, too, which helped.


I also didn't eat at my work party. They had Chinese food and it was all fried and fattening looking, so I didn't even care. I had wine and chocolate. I kind of feel good thinking about how I won't need to diet after the holidays!


Plus I'll be in Florida, so I'll be bikini-ready, hopefully.
Gotta go work out!
=====
Menu today:
Breakfast: eggs and 1/2 sesame seed gluten-free bagel
Lunch: Dinty Moore stew and celery with pb(it's rainy today and I had to do housework)
Dinner: Spinach and Feta mini-pizza- on sale at Sprouts for $3.99.I dip it in Enrico's pizza sauce.
Dessert: Pamela's cookies that were on sale at Sprout's.
New Favorite: gluten-free graham cracker s'mores (in the microwave, but once it stops raining, in the firepit)