Gluten-Free Brownie Recipes
Gluten-Free Brownie Recipes
Gluten-Free Brownie Recipes - Please submit your favorite gluten free brownie recipe here by
registering as an author
on our site. Your recipes will appear here and help thousands of other people with celiac disease.
Note: You can buy many types of prepared gluten-free brownies and the ingredients used in these recipes at
Gluten-Free Mall
Published 03/19/2013
Rating: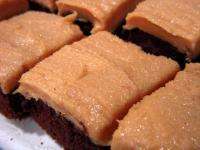 Photo: CC--axmai
One day, I had a couple of packages of gluten-free brownie mix that needed to be used. I also had a good amount of Bailey's Irish Cream Liqueur, and was feeling a bit adventurous. The result was this little bit of gluten-free Irish brownie joy.
Published 07/9/2010

Unrated




Photo: CC/avlxyz
I was never a big cake fan, in fact for my birthday I always asked for pie or torte rather than cake. However, brownies are another story. I love eating brownies when they are warm and gooey, right out of the oven. Unfortunately, I haven't had homemade brownies since going, gluten, egg, dairy and refined sugar free.
Published 05/24/2010
Rating:



Gluten-Free caramel pecan brownies (photo courtesy of jessicafm)
This recipe for gluten-free pecan caramel brownies will fool your friends. If you don't tell them, they probably won't know that it's made with gluten-free ingredients. This is a wonderful dessert option, and is perfect for potlucks or sending to school with your child for a gluten-free treat that they can actually eat.
This recipe comes to us from "Fiddle-Faddle" in the Gluten-Free Forum. I was actu
Bring the following to a boil: ½ cup butter 1 cup water ¼ cup cocoa ½ cup
This recipe comes to us from Valerie Wells. (1) Melt 1 stick of butter, 2 squares of unsweetened
This recipe comes to us from Jo Ann Boyd. Ingredients: 1 cup sugar 6 cups Erewhon gluten-free Cr
This recipe comes to us from Jo Ann Boyd. ½ cup margarine, butter or Crisco 2 teaspoons ba
The following recipe appeared in Volume 6, Number 1 (January 1997) of the Sprue-Nik Press which is
This recipe comes to us from Rebecca Rosenblatt. 1-cup oil 4 eggs 2 cups sugar ½ cu
This recipe comes to us from Sue DeVries. Dry Mix ¾ cup cocoa powder 2 ¼ cup sug
For one 9in x 13in pans worth: ¾ cup butter or margarine ¾ cup cocoa powder 2 &f