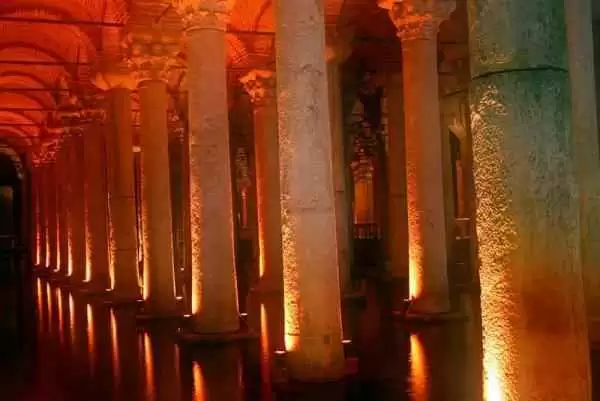 Caption: Image: CC--Luisangel
Celiac.com 08/04/2018 - December 16, 2000, a date that is etched in my mind forever. My husband and I went out for dinner with friends and returned to their home to play some cards for the evening. By around 9 p.m., I noticed my stomach rumbling and I began to make many trips to the bathroom with diarrhea. In fact, it was the beginning of a month-long siege of severe diarrhea. Up until that day, I never had any problems with digestion, bowel problems, or food issues. But suddenly my life was changing. After about four days, I saw my family doctor who started me out with a course of Flagyl, which did nothing to stop the diarrhea over the ensuing week. Following that was my visit to the ER, only to be told to follow up the next morning with my family doctor. When I showed up without an appointment, he told his nurse that he didn't know what to do with me, so he didn't see me at all. I was pushed off on the nurse practitioner, who was so sure her treatment would work that all I had to do was consume 2 TBS of water every 2 hours for 2 days, guaranteeing I would be better. My heart knew it wasn't so, and the continued diarrhea proved it. I was losing one to two pounds a day, but no one was even paying any attention to my weight changes on each visit. After three weeks and another subsequent visit to the ER, I was down 25 pounds.
A visit with a gastroenterologist was a huge waste of time. All he could think of doing was a colonoscopy and maybe three weeks more of Flagyl. I told him that in three weeks I would be dead. I refused the colonoscopy and walked out.
---
Celiac.com Sponsor (A12):


---
---
Celiac.com Sponsor (A12-m):


---
All during this month, I could not eat a single thing without consequence, and by the end of the month, even water went straight through me. I did the BRAT diet (bananas, rice, applesauce, toast), but mostly stuck to the toast with a bit of butter on it. Seeing that it didn't work, I stopped eating altogether. My husband thought my downfall with the BRAT diet was that I was spreading butter on the bread. How little we knew!!

The visits to all the doctors and ER's were worthless, and I grew weaker by the day. I had to give up work during this time and spent most of my days in a recliner. It was the holidays and going out to eat meant I was drinking water while everyone else ate such wonderful-looking foods. After the first couple of weeks, my strength was zapped. Taking a shower wore me out, and drying my hair left me breathless. I needed to take 15 minute breaks trying to recover just so I could continue. I confided in my son that I didn't feel I was going to live much longer, but I could not say those words to my husband. He was angry that no one was figuring out what was wrong with me. I downplayed how sick I was, but I am sure he began to wonder how badly things were going for me.

Taking matters into my own hands, I called a friend who worked for a neurosurgeon. A new doctor had just joined the practice and I thought perhaps he came from somewhere else in Ohio. To make a long story short, he grew up in Ohio and did his training here so he was able to contact those old teachers of his and get me admitted to their hospital about an hour away. Keep in mind that this man did not know me, but he had the presence of mind to know things were quite serious. Within an hour, I was at his teaching hospital and being admitted. I stayed in the hospital for five days and was now down about 30 pounds. I was nothing but a bag of bones. I took a book with me to read. How ironic it was that it was Stephen King's novel, A Bag of Bones! At least I could make some jokes about it when a nurse or intern would stop to see me. Finally a gastroenterologist came to my room on my second day of admission and spoke with me for about 5 minutes and felt he knew what the problem was. He asked me why no one in my hometown could figure anything out in three weeks' time, and he knew in 5 minutes. A subsequent endoscopy proved his suspicions of celiac disease.

Then came the hard part: The Gluten Free Diet!!! A dietician handed me about 30 pages of information, all of which made no sense to me. I was told to go on the internet. The first thing I did was cry! My husband and I made a trip to the grocery store and spent over two hours reading labels. I knew of no one in my area that was familiar with celiac disease. In the first two weeks home, I ate 5 jumbo bags of Lay's Potato Chips. I didn't know what else to eat and was literally starving to death. About four weeks into the diet, realization set in about this diet and the tears came again. I just didn't want this disease anymore as it was much too difficult to handle.

Since no one locally could help me, I joined a support group an hour away and went once a month. It was okay, but it really didn't fulfill my needs. It was more of a social club and I needed speakers and educators. That was when I decided to start my own group less than 3 months into my diagnosis. I took in everything I learned at the group I attended, figured out what was missing, and then decided how I wanted to format my own meetings. I had the local newspaper write a story about celiac disease and my desire to start a group. Thirty people contacted me and the group began. The very first meeting had 15 people attending, and we had samples from Kinnikinnick. Everyone thought they had died and gone to heaven, as they had all been settling for whatever was available in the local health food stores. From that point on, I never looked back and never cried again about having this disease. I now knew what it was that I needed to do, and it was to help others so they didn't go through the same trials and tribulations that I experienced.

Over the next ten years, our small town had a support group. We didn't need to drive an hour to a big city to get help. We had it here every month. Each year the numbers grew with more and more people coming through the group. Our meetings consisted of passing out the monthly handouts and any articles I gleaned from various publications. We would go over all the information that was passed out, discussing it along the way. As soon as that part of the meeting was finished, usually within about 15 to 20 minutes, we turned to social discussion about anything and everything. We also had speakers….lots of speakers!! We went to conferences. We had reporters in at least 3 or 4 times to do stories. We did about 13 half-hour radio shows over those years with great success. We had Gluten-Free days once a year at the hospital. We did about 9 years worth of walks…..all small in numbers but large in spirit. We had a booth for a week at our local fair for about 4 years and gave out information. Some members did a health fair occasionally. We had annual picnics and Christmas dinners. We were getting the word out and people were coming to us. Our most fantastic years were 2006 through about 2009. We were averaging up to 26 people a month. We had a low of 15 and a high of 44 in 2008. It was a great time and we all looked so forward to learning as much as possible during each meeting and telling others of our experiences eating out, shopping, and cooking, etc. At the end of each of our meetings, we would sample what others had brought in, grab a copy of the recipe if we were interested and sit back down and talk amongst ourselves until we just finally had to go home!

Everyone in the group was well educated. Books and other resources were recommended through the group and the knowledge grew. Meetings with speakers were well attended and appreciated.

But how many times can you ask the same speakers to come again and again? Many were three-time repeaters, which was good because we always had new members. Our resident dietitians came monthly and sometimes spoke as well as local doctors and gastroenterologists. We also had a physician speak who was celiac. He had visited our group at least three times. Connie Sarros, a cookbook author, came to our meeting three times. Our speakers brought in many people, but I began to see a trend happening. In the later years, the speakers weren't drawing as many people and the attendance at regular meetings began to dwindle. It wasn't a whole lot to start with, but the monthly average dropped in 2009, 2010, and even worse three-fourths of the way through 2011. We have come full circle and are getting back down towards the numbers we originally began with at the first meeting – 15!

As a result of what I was seeing, along with what was happening with two other support groups in neighboring counties, I could tell that the attendance was dropping off everywhere. A new group that was only about two years old brought in about 15 their first night and then it dropped severely, sometimes with only 1 or 2 showing up. We put our heads together trying to figure out what was going on. There had to be answers. The question was whether we were going to quit having meetings, have them quarterly, every other month, or perhaps just send information via email. But what would happen to those people who relied on us and did not have computer access???

I turned to the Listserv and threw out the question, asking other group leaders and members to respond. I wanted to know if they saw the same trend happening in their area. It was a resounding YES from over 60 responses that I received.

Here are some reasons why people were not attending meetings:
Easier to find GF food on their own.
Some come for the information packets, never to be seen again.
Gas prices.
Unemployment.
The family is busy with their own/kids schedules.
After a few months or years, they feel confident to be on their own.
A few disliked the leaders, feeling they either monopolized meetings or couldn't control them.
Some didn't want to deal with the diet.
Summer is a bad time.
Some didn't care for the agenda: wanting only health information, not cooking classes or social hour.
Others only wanted the social aspects of the meeting and didn't want to listen to other information.
Seating arrangements made some feel like they were at a lecture, seated in rows rather than at tables.
They use the internet more now, have cell phone apps or go on facebook.
The following are issues voiced by group leaders:
People do not want to come to meetings every month.
Many are not compliant with the diet and don't take it seriously.
No one wants to volunteer to help out. This could involve activities the group does, such as walks, publicity, taking over a meeting occasionally, or even staying to help clean up and put things away.
Getting burned out by having to do everything themselves.
I then decided I should survey my own support group. I did it anonymously via the internet so that everyone could answer honestly without worry. I wanted to find out what my own group thought about these same issues so that I could decide on the future of our group by the year's end.
I sent the survey to approximately 104 people. These were people who had contacted me over the years, either via email, coming to some of the meetings, or perhaps just a telephone conversation. Fifty people did the survey. The results were quite interesting and are listed below:
44% said they have only attended between 1-5 meetings, and 23% said 13 or more. The reasons they do not attend showed 46% very comfortable with the diet, and 35% responded that their schedules were too busy to attend. Some used the group's website while others found their information online.
The leadership and presentation of materials was rated as excellent. The discussion time was rated as good, but many wanted more time discussing issues. 100% felt the information they received was helpful in managing their diet and understanding celiac disease.
Some felt the meetings could be quarterly, but 75% stated they would not be lost if the meetings folded. At least 25% of the respondents said they never use our website to read the monthly handouts.
When asked about the need for support groups, 45% said there is a real need, while 38% stated they are nice to have around when you need them. Another 13% said they only needed them to get started on the GF diet.
An overwhelming 70% felt the best format for meetings was educational with discussions as opposed to having just a social hour with discussions.
Yet with all these answers above, it still comes down to that one person who is newly diagnosed and coming to us begging for help. How do we turn our backs on them??? I don't think we can. I know I can't. I have not arrived at an answer for myself, but many of the things I am considering might be having meetings either every other month or quarterly, or not having any meetings at all during the winter when I travel to Florida and have no one to take over. Even when I was in Florida, I did all the paperwork for the meetings, but attendance was down even more dramatically and those helping me had a hard time trying to run the meetings as they were not comfortable speaking in front of a group of people.
So what decision will I come to?? I don't know yet, but I have given myself until December of this year to make some kind of decision. We are still needed, but I just don't think it is to the extent that it used to be five or ten years ago. It is not a hardship anymore having celiac disease because so many manufacturers are on board with GF products. It is so much easier, but there are still tiny loopholes in the diet that we need to help the newly diagnosed plug up and not make mistakes that could cause them to be sick.
We will never be without the Internet, telephones, or other means of communication for obtaining information, but finding the correct information that is not outdated will sometimes be a challenge to a person searching on their own. So much is out there, but I think it still takes some form of a support chain with very strong links to help others when they call. I think I have that with my group, even if we should ever disband in the future. I am the information researcher, but I know who to send people to when they have questions regarding baking as we have two of the best bakers around, not to mention some others locally who will bake for a price. I know the parents with autistic and diabetic children and I refer people to them when needed. They are all my links in this very strong chain and I depend on them more than they can ever know. And my thanks always go out to them for being there for me.
Addendum: As I was wrapping up this article, my September support group meeting came and went. Only seventeen people attended. Many were worried about whether I would fold the group or not. What I learned from all this was that our meetings were really pretty good over the years, but people were managing on their own. It is okay if they choose not to come to the meetings, but they were possibly missing out on some very important changes. I also learned that many would like even more discussion time, so we will have to urge more people to speak up. They all felt there was a certain "core group" that kept coming to the meetings because we needed each other. We knew what the others were going through, we had new ideas, new recipes and some interesting happenings outside the group that we needed to share. And many times we just needed to "vent". Yes, our feelings are hurt when we attend family events such as a potluck and not one person has tried to create something for us. Other times we rejoice because someone has gone above and beyond the call of duty to see that we have something to eat. In the end, what it all boiled down to was that we needed each other! So, even if our numbers are dwindling, we plan to keep on going. We will only meet from May through December with telephone and email support in between and we will continue to help those in need! So whether I am in Florida or Ohio, the support will ALWAYS BE THERE! We are the Richland County Celiac Support Group in Mansfield, Ohio...HEAR US ROAR!!
Also, as we neared the deadline for this article, Scott at Celiac.com decided to send my survey to his email list. 79 people responded. As was expected, most of their answers matched those we already had. Below is a compilation of answers and comments made.
CELIAC SUPPORT GROUP SURVEY:
How many meetings have you attended?
37% none
20% 1-5
13% 6-12
18% 13 or more
13% monthly
If you no longer attend meetings, why?
29% comfortable with diet
35% find info online
6% use website
19% busy schedules
4% don't care for format
6% needs new leader
0% no longer follow the diet
29% live too far away
6% not interested
33% other
Responses:
Some do not have support groups, some chapter closed, leader retired, inconvenient time/place, understand diet, groups very hopeless and clique-y and off-putting, and cost of gas. One respondent would like to start a group in East Hampton NY 11937.
Rate the Meetings:
Leadership:
Poor 3.8% / Fair 13.5% / Good 38.5% / Excellent 44.2%
Presentation/Materials:
Poor 1.9% / Fair 15.4% / Good 42.3% / Excellent 40.4%
Speakers:
Poor 9.8% / Fair 13.7% / Good 33.3% / Excellent 43.1%
Discussion Time:
Poor 2.0% / Fair 20% / Good 52% / Excellent 26%
GF Samples:
Poor 7.4% / Fair 18.5% / Good 31.5% / Excellent 42.6%
Responses:
People are very vocal about wanting more GF restrictions and should learn to quietly educate people and try to make changes without making others feel forced to comply.
Some material offered nothing new or do better on their own, but like hearing stories and such from other people.
Some meetings are boring.
Difficult to get free speakers.
Redundant format, but good for newly diagnosed.
A group is essential to understanding both the diet and disease.
Food tasting is wonderful.
Have you ever attended a meeting that turned your off and you never returned?
Responses:
One speaker promoted a very limited diet along with being GF. She went on and on, people left, & she still kept talking.
Prefer reading articles. Some groups get a bit quirky or boring.
No one my age, and because I am only "intolerant" I felt not as important as everyone else. Another big factor goes back to the time and place.
It was a peer support group and other long time members laughed at my symptoms saying they could not be gluten reactions, but others I know have the same symptoms.
About 5 years ago I attended a meeting where a book author mentioned that cancer from celiac is very rare and it was printed in her book. I raised my hand to mention that about 4 people in our group had cancer and I had previously completed intense chemo with a bone marrow transplant which was directly from lack of diagnosis with celiac. I wanted people to know that they should not mess with cheating on the diet because they might not know if they were injuring themselves. She assured everyone that cancer was rare. I guess when you are the one with cancer, you don't want anyone else to go through it. So, my warning to others is not to cheat. 1 person is still too many with a disease that could have been diagnosed and wasn't. I survived, but 2 more people in town did not.... with the same cancer.
Meetings are controlled by support group founders.
I don't know - I just didn't like their attitude. Negative and closed to newcomers.
Lots of people were gluten sensitive not celiac, & felt it was more social about eating out rather than any support or information.
I belong to 2 support groups. One I always attend. The other lacks leadership and, thus, I find it a waste of my time.
The first group meetings eventually dwindled to the same, very few, members and I had the diet info mastered then. Not much more was offered until a local group formed a year or so ago.
The Healthy Villi used to be an affiliate of CSA/USA. After going to several national CSA conferences, I found their leadership to be too restrictive and decided to no longer affiliate myself with them or attend their conferences. The Healthy Villi also severed their ties with CSA.
Do you find the information you receive to be helpful in managing your diet and understanding celiac disease?
What meeting times would suit you best?
43.3% monthly
22.4% every other month
22.4% quarterly
13.4% none
If your group folded, would you be lost without it?
Do you ever go to your group's website to read the updated information and articles?
41.3% yes
31.7% occasionally
27.0% never
What is your feeling about support groups?
56.8% there is a real need
5.4% only need them to get started
36.5% nice to have around when you need them
1.4% people can do without them now
0% telephone support is all that is needed.
Which format do you think would be best for a meeting?
70.1% educational with discussions
38.8% social hour with discussions
14.9% potluck dinners every month
1.5% different member taking over each month
4.5% dining out monthly instead of meetings
26.9% cooking demos by members
35.8% cooking demos by chefs
Responses:
Some thought all of above and also vary the meetings.
Discussions and speakers very helpful.
Definitely education, but cooking demos would be interesting and open up discussions for new people, plus doctors should have packets to give to the newly diagnosed.