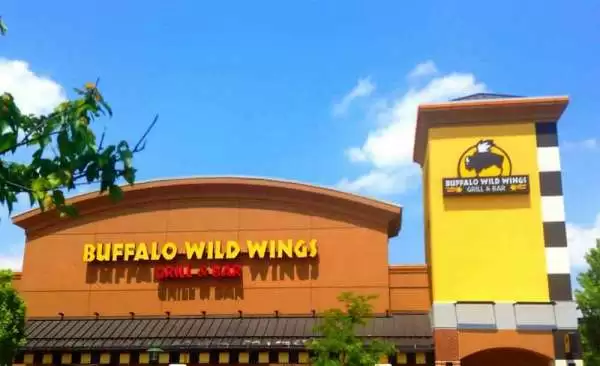 Caption: Buffalo Wild Wings. Image: CC BY 2.0--JeepersMedia
Celiac.com 01/16/2020 - Gluten-free eater beware! Don't get fooled by fake gluten-free menus (and fake news!). Just because a company posts clear allergen and gluten-free listings on their menu doesn't mean that the food is reliably allergen or gluten-free and safe to eat.
That point was driven home recently when an article from a seemingly reliable source, and a glance at the gluten-free listings on the menu at Buffalo Wild Wings, made it seem that their food was safely gluten-free. However, after reading fine print buried in their website, we discovered a different tale.
---
Celiac.com Sponsor (A12):


---
Listing gluten-free items on a menu but not preparing them in a gluten-free manner can cause confusion, and can be dangerous, not just for those with celiac disease, but especially those who might get anaphylactic allergic reactions to allergens on such "free from" menus.

[The original article begins here. It has been corrected to reflect the fact that Buffalo Wild Wings uses shared fryers and is unlikely to be gluten-free as prepared.]

Thankfully, Buffalo Wild Wings makes it easy to find out which menu items contain allergens by using its handy Allergen and Preparation Guide, which can be found on its website. Not only does it list which menu items contain wheat and/or gluten, it also outlines those containing egg, fish, milk, peanuts, shellfish, soy, tree nuts and items fried in beef shortening.

Wheat and gluten are the last allergens listed so it can be a little confusing to follow the dots all the way across the guide. Many items appear to be free of wheat or gluten.

Here's a link to the Buffalo Wild Wings Allergen and Preparation Guide. Be sure to read the fine print.

Here's everything on the Buffalo Wild Wings menu that contains no wheat or gluten:
All-beef hamburger patty
Burgers and more
Buffalo loaded tots with mild, medium or hot
Blazin' sauce
Bourbon honey mustard sauce
Buffalo chips
Buffalo seasoning
Caribbean jerk sauce
Cheese: American, blue, cheddar, cheddar jack, pepper jack, queso and Swiss
Chicken
Chipotle BBQ seasoning
Chili queso dip with tortilla chips
Chips and salsa
Desert heat seasoning
Dressings: Blue cheese, light Caesar, ranch, fat free ranch, southwestern ranch, lemon vinaigrette
French fries
Grilled chicken breast
Honey BBQ sauce
Hot sauce
Hot BBQ sauce
Kids' menu
Lemon pepper seasoning
Mango habanero sauce
Medium sauce
Mild sauce
Naked chicken tenders
Parmesan garlic sauce
Salt and vinegar seasoning
Sauces/Dry rubs
Shareables
Spicy garlic sauce
Sweet BBQ sauce
The whole enchilada traditional wings
Toppings: Bacon, avocado, ketchup, yellow mustard and loaded chili
Traditional wings
Ultimate nachos (with or without chicken)
Wild sauce
Note: No salads are gluten-free without modifications. Also, whenever eating out there is always a risk of cross-contamination, so eating here may not be suitable for everyone.
At a glance, this menu might seem to offer gluten-free items, but a close read of the top portion carries the following red flag: [Because of] "shared cooking and preparation areas in our kitchens, and cooking procedures, we cannot eliminate the risk of cross-contact or guarantee that any item is free of any allergen and no items are certified as gluten-free..." Buried further in their site we found:
"We do not use separate fryers; due to this use of shared fryers there is the potential for allergen cross-contact between fried foods."
So always be sure to double- and triple-check, because it's easy to make a mistake, or be fooled by what seem like gluten-free listings. Anyone with celiac disease knows that accidental wheat consumption can come with unpleasant, and sometimes serious consequences. So, check your sources, read menus carefully, ask questions and be diligent.
Note: This article was originally published on 01/16/2020 and was revised after we discovered that shared fryers and other contamination issues exist in their kitchens.