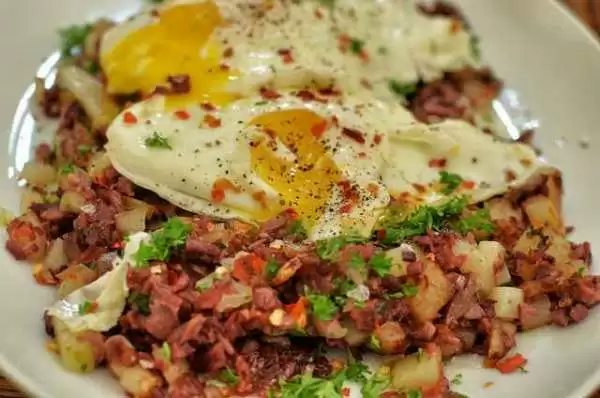 Caption: The finished corned beef hash. Photo: CC--JeffreyW
Celiac.com 12/23/2017 - The holidays are often filled with drink and merriment. Sometimes a bit too much of each, so as to leave a reveler in a state that could be described as hungover.
When that happens, this tasty corned beef hash is just the trick. Make it up a day or so ahead of time, then heat it up the morning after your fiesta, and top it off with poached (or fried) eggs for a tasty brunch that will help put you back in the saddle. Sure, you could buy it canned, but it's so much better made fresh. Plus, it will give you some practice for St. Patrick's Day. Hip tip: Make it a day ahead of time and reheat it when you need it most.
---
Celiac.com Sponsor (A12):


---
---
Celiac.com Sponsor (A12-m):


---
Ingredients:
Corned beef
2 pounds uncooked corned beef brisket, rinsed, trimmed, spice packet discarded if included
4 sprigs flat-leaf parsley
3 bay leaves, torn
1 tablespoon black peppercorns
1 tablespoon coriander seeds
1 tablespoon yellow mustard seeds
1 medium onion, peeled, halved through root
1 large russet potato, peeled, halved crosswise
Hash:
¼ cup chopped fresh flat-leaf parsley, plus more for serving
4 tablespoons unsalted butter
1 teaspoon distilled cider vinegar
4 large eggs
Kosher salt and freshly ground black pepper
Fresh chives or scallions (for serving)

Directions:
Corned beef
Place corned beef in a large stock pot and add water to cover by 1-inch.
Add parsley sprigs, bay leaves, peppercorns, coriander seeds, and mustard seeds.
Bring to a boil; reduce heat, cover, and simmer, skimming surface often and adding more water to pot as needed to keep meat submerged, and cook about 3½–4 hours, until corned beef is tender.Add onion and potato to corned beef in pot and cook until vegetables are very tender, 20–25 minutes.
Remove onion and potato from pot.
Set aside to cool; wrap separately and chill.
Let corned beef cool in cooking liquid.
Transfer corned beef to an airtight container and top with the rest of the cooking liquid.
Cover and chill.
Discard any remaining aromatics and cooking liquid.
Best to refrigerate for a night or two before making the hash, but okay to use right away.
Hash
Remove corned beef from cooking liquid and shred enough to measure 2 cups.
Reserve left over corned beef for sandwiches. Heat oven to 200°
Thinly slice cooked onion and cut cooked potato into ½" pieces; toss in a large bowl with corned beef and ¼ cup parsley.
Add a bit of water to the cooking liquid if it is dry; season with salt and pepper. Heat 2 tablespoons butter in a medium skillet over medium heat.
Add ½ of corned beef mixture and press into a pancake.
Cook undisturbed until underside is brown and crisp, 6–8 minutes.
Flip the hash by inverting the pancake onto a plate, then slide it back into pan.
Cook until second side is brown and crisp, 6–8 minutes.
Transfer hash to a rimmed baking sheet, tent with foil, and keep warm in oven until ready to serve.
Repeat with remaining butter and corned beef mixture.Meanwhile, bring 2" water to a boil in a large saucepan; reduce heat to a gentle simmer and add vinegar.
Crack an egg into a small bowl and gently slide egg into water.
Repeat with remaining eggs, waiting until whites are opaque before adding the next egg--use 30 second intervals.
Poach until whites are set and yolks are still runny, about 3 minutes. Using a slotted spoon, transfer eggs as they are done to paper towels.
Serve eggs over hash, seasoned with salt and pepper and topped with chives/scallions, and more parsley, as desired.