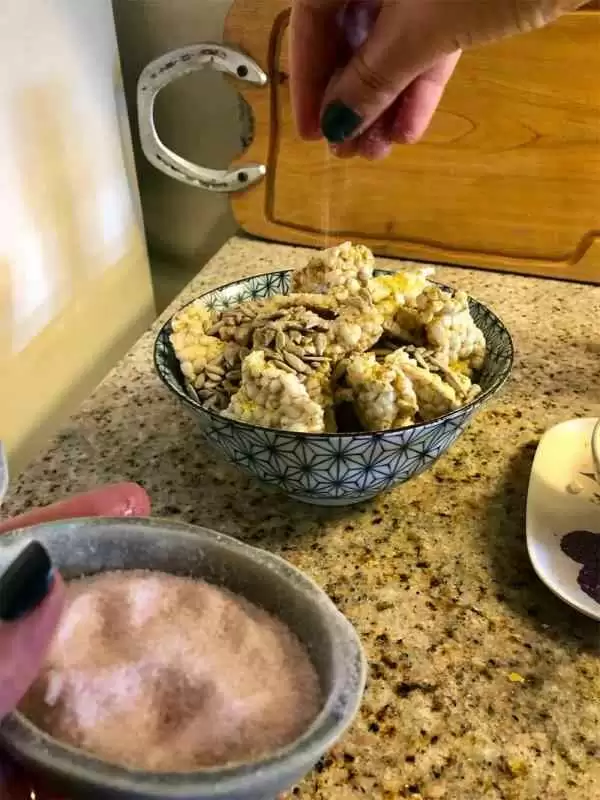 Celiac.com 07/20/2018 - During my Vipassana retreat, I wasn't left with much to eat during breakfast, at least in terms of gluten free options. Even with gluten free bread, the toasters weren't separated to prevent cross contamination. All of my other options were full of sugar (cereals, fruits), which I try to avoid, especially for breakfast. I had to come up with something that did not have sugar, was tasty, salty, and gave me some form of protein. After about four days of mixing and matching, I was finally able to come up with the strangest concoction, that may not look the prettiest, but sure tastes delicious. Actually, if you squint your eyes just enough, it tastes like buttery popcorn. I now can't stop eating it as a snack at home, and would like to share it with others who are looking for a yummy nutritious snack. 
Ingredients:
4 Rice cakes
⅓ cup of Olive oil 
Mineral salt
½ cup Nutritional Yeast
⅓ cup of Sunflower Seeds 
---
Celiac.com Sponsor (A12):


---
Intriguing list, right?...

Directions (1.5 Servings):
Crunch up the rice into small bite size pieces. 
Throw a liberal amount of nutritional yeast onto the pieces, until you see more yellow than white. 
Add salt to taste. For my POTS brothers and sisters, throw it on (we need an excess amount of salt to maintain a healthy BP). 
Add olive oil 
Liberally sprinkle sunflower seeds. This is what adds the protein and crunch, so the more, the tastier. 
Buen Provecho, y Buen Camino!