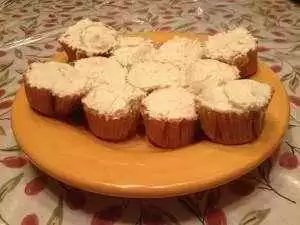 Caption: The finished Gluvana cupcakes.
For my first gluten-free baking experience, I made vanilla cupcakes with orange-flavored frosting using Gluvana Complete Gluten-Free All Purpose Mix. I also made a batch of gluten-containing cupcakes using the same recipe to allow for comparison. I didn't do blind taste testing or anything like that, but I can honestly say that the cupcakes made with Gluvana's flour were better.

The gluten-free cupcakes had a pleasant consistency and a hint of a cornbread-like flavor that complimented the orange frosting well. The wheat flour cupcakes seemed dense and flavorless in comparison. I'm going to try subbing Gluvana into some other recipes to test its other applications, but thus far I am very impressed!
---
Celiac.com Sponsor (A12):


---
---
Celiac.com Sponsor (A12-m):


---
Note: be sure to omit baking powder from your recipes, as Gluvana's mix already contains it.
For more information, visit their website.
Note: Articles that appear in the "Gluten-Free Food Reviews"  section of this site are paid advertisements. For more information about this see our Advertising Page.