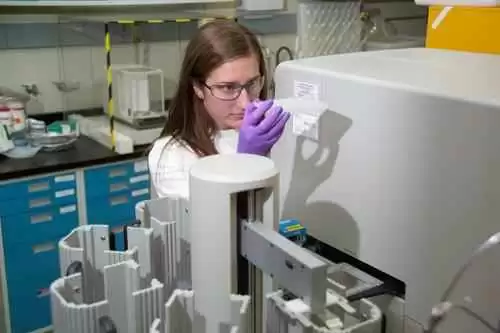 Caption: Image: CC--Idaho National Laboratory
Celiac.com 08/11/2017 - We are very pleased to provide an exciting update on our progress on bringing our therapeutic drug "latiglutenase" and our diagnostic disease management tool "CypCel" to market for patients suffering with celiac disease.
ImmunogenX is a clinical-stage company founded by dedicated scientists committed to bettering the lives of celiac disease patients. We are focused on celiac disease therapy, disease management and food safety. We acquired the assets of Alvine Pharmaceuticals in 2016 and are marching ahead with great confidence and enthusiasm and plan to start our final Phase 2 trial for latiglutenase later this year.
---
Celiac.com Sponsor (A12):


---
---
Celiac.com Sponsor (A12-m):


---
Latiglutenase is a natural product, a mixture of two gluten-specific enzymes that break down gluten in the stomach. A patient would take the therapy orally while maintaining a strict gluten-free diet. The intent of the therapy is to combat low levels of gluten that persist in the food chain, as well as in situations where ingestion of gluten is unavoidable due to cross contamination, such as at restaurants.

The recent latiglutenase Phase 2b trial (CeliAction) conducted by Alvine and AbbVie unfortunately did not meet their primary goal of demonstrating clinically significant intestinal healing. The secondary goal of symptom reduction did show evidence of success in a subclass of celiac disease patients. ImmunogenX, following the acquisition of the Alvine assets, completed a post hoc data analysis from this trial. Statistically and clinically significant symptom improvement was shown for abdominal pain, bloating, tiredness, and constipation for patients who had persistent positive readings in key antibody levels (i.e., seropositive). These exciting results were highlighted at the Digestive Disease Week meeting in May 2017 and are now published in Digestive Diseases and Sciences. We will travel to India in September to present our research at ICDS 2017 (International Celiac Disease Symposium).

If the primary endpoint of the CeliAction trial had been focused on reducing symptoms of gluten exposure, then that trial could rightfully have been called a success. Therefore, as a next step, ImmunogenX will be to go back into the clinic and reconfirm these positive results, demonstrating symptom improvement, in our next phase 2 trial. This will enable the company to transition to a pivotal trial for FDA registration.

We attended another FDA Type C meeting in May 2017, which reinforced the continuing positive support from the agency regarding our symptom label, our Phase 2/3 trial strategy and our celiac disease symptom diary (CDSD) patient reported outcome (PRO) instrument. It is very gratifying to have such documented support from the FDA for our mission.

Please visit our website www.immunogenx.com for updates on our progress and feel free to contact us with any questions (info@immunogenx.com).