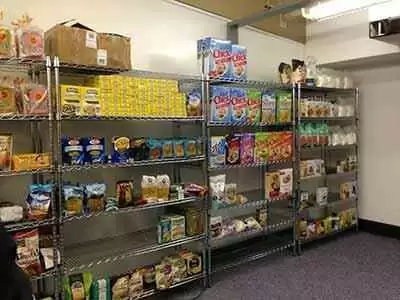 Caption: Food Equality Initiative is the first food pantry for kid with food allergies. Photo: Food Equality Initiative--Allison Long/The Kansas City Star via AP
Celiac.com 02/03/2017 - Feeding kids restricted to a "special" diet due to food allergies or sensitivities can be both challenging and expensive. Two Kansas moms turned their experience meeting those challenges with their own children into a full-blown community service, dedicated to helping parents feed kids with food allergies on the cheap.
Emily Brown's daughter suffers from allergies to milk, eggs, wheat, soy, and peanuts. Avoiding such common ingredients really pushed up the Brown family's grocery bills. A single loaf of gluten-free bread can exceed $6.99. Such high costs led the women to seek federal assistance, but allergen-free food options in the Women, Infants, and Children (WIC) program had limited offerings for their children.
---
Celiac.com Sponsor (A12):


---
---
Celiac.com Sponsor (A12-m):


---
For example, the program substitutes corn tortillas instead of bread, and rice instead of pasta, which wasn't so appealing to the kids.

With that in mind, Brown and her friend, Amy Goode, swung into action and set up the ReNewed Health Food Pantry in Overland Park, Kansas, along with a nonprofit to help low-income families with food allergies.

ReNewed is believed to be the first such pantry in the U.S., though a similar community food pantry recently opened in Philadelphia.

Read more: fox4kc.com.