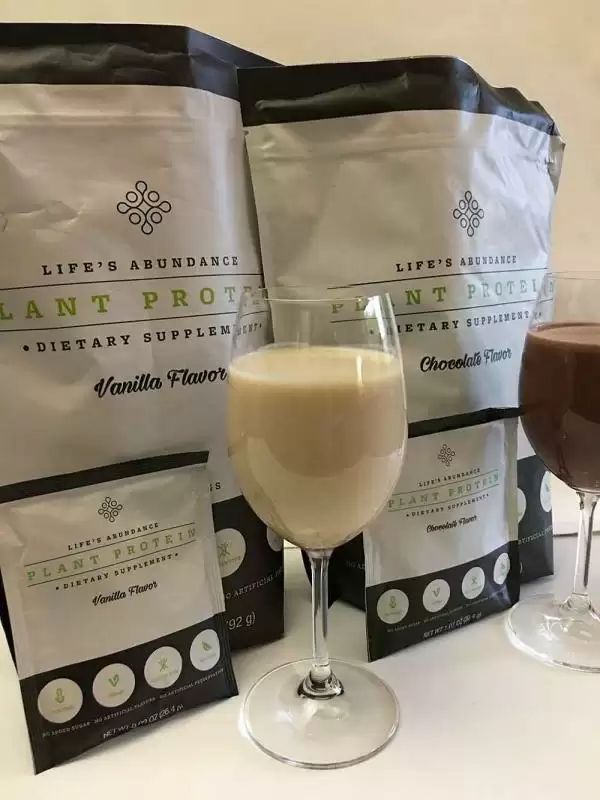 Celiac.com 01/18/2019 - I recently had the opportunity to try a high-protein dietary supplement made by Life's Abundance. It's called Life's Abundance Plant Protein Dietary Supplement, and it comes in vanilla or chocolate flavors. The supplement makes it very easy to add extra protein and fiber to your diet. 
There are several ways to use this plan protein supplement, and besides just mixing one scoop of it into 8 ounces of cold water to make a shake, it can also be added to smoothies, pancakes, baked goods and oatmeal. I tested it out by making shakes.
---
Celiac.com Sponsor (A12):


---
As advertised, this supplement is packed with protein, at 14 grams per serving, and each serving also contains 3 grams of fiber. The main ingredients are pea protein, hemp protein, pumpkin protein, quinoa, chia seeds, coconut oil, and oat fiber. It was especially nice to see such a small, wholesome ingredient list, as many similar products contain far too many ingredients, and both are also soy-free and non-GMO. 

Making a protein shake couldn't be easier—I added one scoop of plant protein powder to 8 ounces of cold water and stirred thoroughly, and it was ready to drink. 

The texture and taste of both shakes were very good, and the vanilla flavor reminded me of vanilla ice cream. The chocolate flavor was similar to a not-too-sweet hot cocoa, and it had a slight dark chocolate taste.

Clearly this product is perfect for a hearty snack, as I felt full after a single shake, but I also felt full of energy! Each serving contains only 100 calories. The shakes were also easy to digest, unlike others I've tried. 

Overall I think that anyone who wants to increase their dietary protein and fiber intake, and stick to a healthy regimen in the process, would really like Life's Abundance Plant Protein Dietary Supplements.

Visit their site for more info.