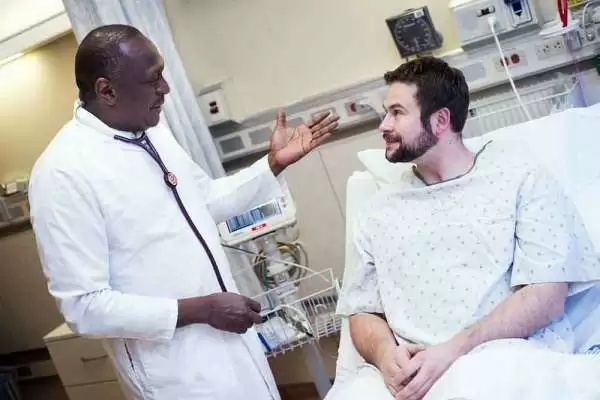 Caption: Image: CC BY 2.0--NIHClinicalCenter
Celiac.com 12/11/2019 - While celiac disease affects an estimated 1% of people worldwide, more than 90% of people with the disease remain undiagnosed. Current celiac disease protocols call for screening patients with gastrointestinal symptoms or other autoimmune diseases, along with any first-degree relatives of celiac patients.

However, current screening usually involves a trip to the doctor's office for a blood test that measures levels of celiac-specific antibodies. That simple trip can be a barrier to screening, and thus to treatment and healing. Even in more developed countries, more than half of celiacs are unaware of their disease.

Rapid diagnosis and treatment of celiac disease is important, because delayed diagnosis often means persistent symptoms even after treatment, along with impaired quality of life.

One solution lies in point-of-care (POC) testing, which moves medical testing from central laboratories directly to the place where the patient is receiving care.

To assist in rapid and reliable disease screening, researchers from the University of Helsinki have developed a novel diagnostic method coined RFS (Rapid FRET serodiagnostics) for the rapid on-site measurement of antibodies from patient samples. This technology could revolutionize blood screening for microbial, autoimmune and allergic disorders. That same team recently applied their new diagnostic method to celiac disease screening.
Fast and Easy Detection of Celiac Antibodies
The research team took blood samples from 35 children and 35 adults with celiac disease. They also took samples from healthy control subjects. They measured samples with the new test method, and compared results with two current methods.
According to Juuso Rusanen, MD, "The performance of the test was comparable to that of current methods, [which] involves transporting the sample to a central laboratory and a multi-step procedure taking hours."
The new method provides accurate results "in less than half an hour by simply combining the sample and a reagent mix, waiting for a while and reading the result."
Rusanen says that the team hopes that the new method can "lower the threshold for screening of celiac disease and thus help overcome the vast under-diagnosis of this relatively common condition."
This test marks the first time their method has been used for diagnosing an autoimmune disease. The promising results invite the development of similar diagnostic tests aimed at other autoimmune diseases, says Rusanen.
Read more at Eurekalert.com