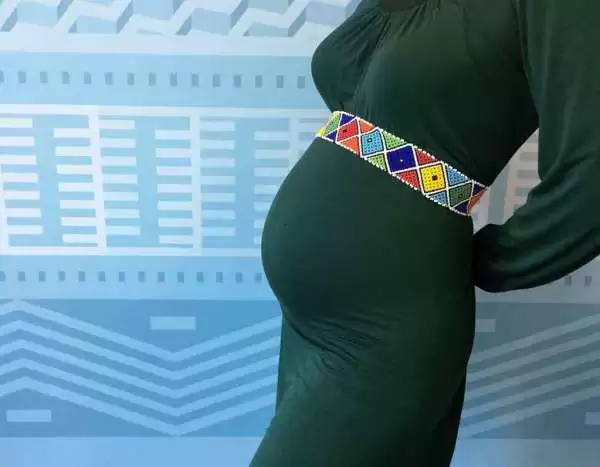 Caption: Pregnant woman. Image: CC BY 2.0--NIAID
Celiac.com 09/21/2020 - Many people of reproductive age have celiac disease, but researchers really don't know very much about the impact of celiac disease on pregnancy and fetal development. 
The British Society of Gastroenterology currently recommends celiac blood testing for patients with chronic diarrhea, but celiac disease may be under-diagnosed in women without classic symptoms.
---
Celiac.com Sponsor (A12):


---
---
Celiac.com Sponsor (A12-m):


---
A team of researchers recently wrote a letter to the editors at Gut, about their recent study on the impact of celiac disease on pregnancy and fetal development. To study the connection between celiac disease and the risk of birth defects in pregnant women, the researchers first used discharge summaries from the Maintenance and Use of Data for the Study of Hospital Clientele database to establish their study group, 

The team then analyzed a group of live births between 1989 and 2016 in Quebec, Canada that included 2,184,888 infants, including 125,081 with birth defects and 2,238 whose mothers had celiac disease. They used diagnostic codes to spot women with celiac disease, and infants with various kinds of birth defects and determined whether celiac disease was present during prenatal follow-up or were hospitalized for it after their pregnancy.

The team used log-binomial regression models with robust SE to estimate associations between celiac disease and birth defects, as adjusted for maternal characteristics and found that celiac disease was associated with 1.58 times the risk of heart defects (95% CI 1.12 to 2.22) and 1.56 times the risk of urinary defects (95%CI 1.06 to 2.32) compared to those without it, and the risk of heart defects was greater in women who had two or more celiac-related hospitalizations (risk ratio (RR) 3.06, 95%CI 1.81 to 5.15), and in those whose celiac disease was diagnosed after their delivery (RR 1.94, 95%CI 1.31 to 2.88).

The association with heart defects was also stronger before the year 2000 (RR 2.29, 95%CI 1.41 to 3.72), and the association with heart defects was elevated in those whose celiac disease that was diagnosed after delivery, which includes undetected cases that may have been present during pregnancy.

There was no association with other types of birth defects.

The results indicate that women who wish to get pregnant should consider screening for celiac disease beforehand, and if they test positive should go on a gluten-free diet for some time to ensure that they do not have any vitamin and mineral deficiencies caused by damaged villi. Additionally, doctors may want to more closely monitor their babies for heart and urinary birth defects.

Read the full results of the study at Gut.bmj.com

 

The study team included Nathalie Auger, Amelie Therrien, Marianne Bilodeau-Bertrand, Chantal Nelson, Laura Arbour. They are variously affiliated with the Department of Social and Preventive Medicine, University of Montreal Hospital Research Centre, Montreal, Quebec, Canada; the Celiac Center, Beth Israel Deaconess Medical Center, Boston, Massachusetts, USA; the Bureau d'information et d'études en santé des populations, Institut national de santé publique du Québec, Montreal, Quebec, Canada; the Maternal and Infant Health Surveillance Section, Public Health Agency of Canada, Ottawa, Ontario, Canada; and the Department of Medical Genetics, The University of British Columbia, Vancouver, British Columbia, Canada.