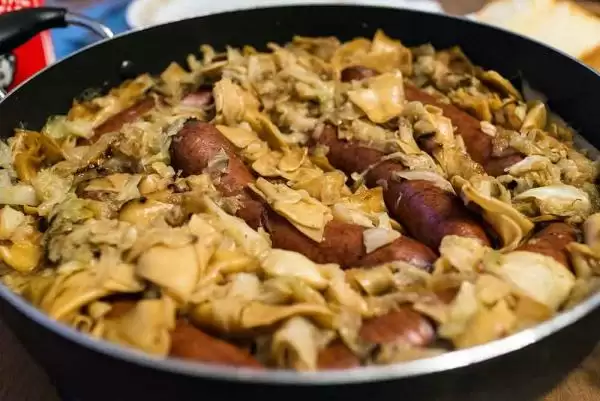 Caption: Image: CC--Edsel Little
Celiac.com 12/01/2018 - If you're looking for an easy, yet sure to please dinner, then this simple oven wonder is just what you need. The recipe is a delightful marriage of sizzling sausages, crisp, tender potatoes, and sweet cabbage. A final savory drizzle of brown butter and fried sage leaves seals the union.
Ingredients:
4 uncooked gluten-free sausages of choice
¼ cup olive oil
1 small green cabbage (1½ to 1¾-pound), cut in 8 wedges through core
1¼ pounds small Yukon Gold potatoes, halved lengthwise
6 unpeeled garlic cloves, lightly crushed
4 fresh sage sprigs
½ teaspoon kosher salt 
½ teaspoon freshly ground black pepper
¼ cup butter
20 small sage leaves
---
Celiac.com Sponsor (A12):


---
Directions:
Heat oven to 425 degrees. 

In a large bowl, toss cabbage lightly in oil. Lay wedges flat on foil-lined baking sheet, and drawn any excess oil drip back into bowl. 

Toss potatoes in remaining oil. 

Place potatoes cut sides down on a second foil-lined baking sheet. Drain any excess oil back into bowl. 

To each pan, add 3 garlic cloves and 2 sage sprigs seasoned with salt and pepper. 

Cover pans tightly with foil; roast for 20 minutes.

Remove foil from pans. Lightly prick the sausages and toss in remaining oil; add to pan with cabbage. 

Switch roasting pans to opposite oven racks, and roast for another 15 minutes or so. 

Turn cabbage, potatoes and bratwurst; 

Continue roasting another 5 minutes or so, until everything is tender, golden and juicy. 

Transfer everything to a large platter.

In a small skillet, melt butter over medium heat until it begins to foam. Add sage leaves; cook up to 60 seconds until butter is brown and sage is crisp. Spoon butter over everything on the patter.