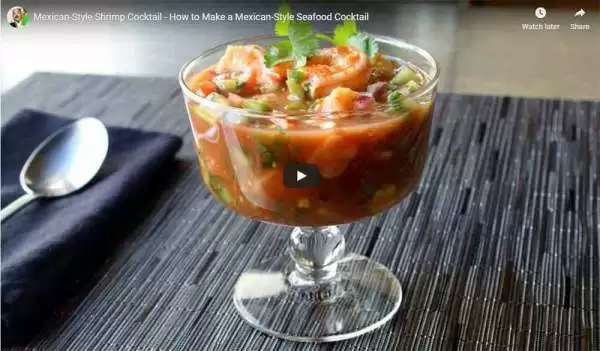 Caption: Image: Chef John @ Food Wishes
Celiac.com 09/11/2019 - A good shrimp cocktail is a thing of beauty. Cool, tasty, and refreshing, this recipe for Mexican-style shrimp cocktail comes to us from Chef John over at Food Wishes, one of our favorite food blogs on the internet. The blog pairs nicely with a video of the step-by-step preparation on Youtube. Food Wishes is not strictly gluten-free, but many recipes there are prepared without gluten ingredients. If you haven't had a chance to check out the delicious recipes on Food Wishes, definitely check it out. 
This recipe delivers a shrimp cocktail that is fresh, tangy, rich and delicious. The original recipe calls for jalapeño, but we substituted Serrano instead. Use whichever you like.
---
Celiac.com Sponsor (A12):


---
---
Celiac.com Sponsor (A12-m):


---
Watch the video here:
Ingredients for 4 servings:
1 cup clam juice
1 pound raw large shrimp, peeled and deveined
¼ teaspoon dried oregano
1 cup diced English or Persian cucumber
½  cup diced celery
½  cup finely diced red onion
2 tablespoons Serrano peppers, seeded, finely diced
1¼ cup diced, peeled, seeded ripe tomatoes, or quartered small cherry tomatoes
½ cup ketchup
2 freshly squeezed limes, to taste
freshly chopped cilantro, to taste
Mexican hot sauce, to taste
1 large Hass avocado, cubed
Directions:
Right off the bat, Chef John throws us an ingenious curve. Instead of cooking the one pound of peeled and deveined shrimp in salty water, he cooks them in clam juice with a pinch of oregano.
Bring clam juice and oregano to a boil.
Add shrimp, and cook for about 2 minutes until barely cooked. It's okay if a few are slightly undercooked, since the lime and tomato will help finish cooking the shrimp.
When shrimp are cooked, remove them to a bowl to cool.
Let clam juice cool, then strain and reserve.
When shrimp are cool to touch, clean up any remaining veins, etc., and the cut into bite sized pieces.
Place chopped tomatoes into a mixing bowl. Add ketchup and stir.
Add cooled clam juice, and lime juice, and stir until mixed.
Add chopped cucumbers, onion, celery, cilantro, Serrano pepper, and salt.
Add a dash of gluten-free red pepper hot sauce, and a dash of cayenne, as desired, and stir well.
Add cut shrimp to the bowl, and mix well.
Cover and place into the fridge for 2-3 hours.
Once chilled, remove from fridge and stir to check thickness.
Thin mixture by adding a bit of tomato juice, clam juice, or, for a secret layer of flavor, pickle brine.
Stir until mixture is desired consistency.
Once thickness is adjusted, add diced avocado pieces.
Spoon into chilled glass cups or glasses, top with cilantro sprig, and serve with tortilla chips, and fresh lime wedges.
Also, if classic All-American Shrimp Cocktail is more your speed, check out that recipe at the Food Wishes blog.