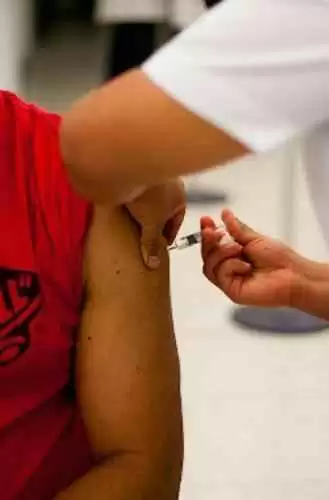 Caption: Photo: CC--Frank Balsinger
Celiac.com 08/26/2016 - News that ImmusanT company is beginning full human trials for their celiac disease vaccine, NexVax 2, brought a number of comments from our readers.
We first reported on their effort way back in 2002, with our story, Australian Researchers Begin Work on a Vaccine for Celiac Disease.
---
Celiac.com Sponsor (A12):


---
---
Celiac.com Sponsor (A12-m):


---
We followed up over the years, with stories in 2009, First Ever Celiac Disease Vaccine Trials Underway in Australia and again in 2011, with articles reporting on the company's efforts to raise investment funds, titled ImmusanT Raises $20 Million in Series A Financing to Advance Immunotherapeutic and Diagnostic for Celiac Disease and on how ImmusanT's Celiac Vaccine Passed Phase I Clinical Trials and in 2012, with Is a Vaccine for Celiac Disease Just Around the Corner?

Comments generally ran toward the affirmative side, with many people expressing excitement or interest in such a vaccine.

From Jared M: I hope this research goes well. The bread, crackers and pizza I can live without. But I would really like to be able to drink a good IPA again. The sorghum beers are horrible. I am quickly growing tired of ciders. I would definitely pay for this treatment if it works.

From Toni: I have celiac. That [a vaccine] would be wonderful.

From Traci: I would like to be involved in a study for this immunization.

From Linda Haas: Can't wait to hear more about the progress made on this vaccine...it sounds very promising!

From Donda: I'm thrilled with the possibility of this coming to market.

From Muriel Weadick: This is what all celiacs have been waiting for, and I am sure I am not alone in wishing the company success.

From Suzanne: A vaccine like this would make it easier to eat out and go on vacation.

Jeanne Burge wrote: I would gladly volunteer for the trials in the US. Hope this works!

Still, a few comments ran toward the less than glowing side, with some people expressing trepidation, or outright distrust toward such a vaccine.

From Cathi: My Question is, "What will be the side effects of this turning off the body's ability to fight Gluten?" Will there still be destruction some place else and maybe worse? So, many times a pill is created to help one thing only to find out that it created another problem some place else in the body. Frankly, I am worried.

From Donna: Absolutely agree with you, Cathi. There is always a problem and side effects with ANY drug! My question is this - WHAT ELSE will be shut off? Will we be even MORE susceptible to other illnesses? I am worried as well!

From Balm: Thanks but no thanks. I'll remain a celiac and continue to eat healthy. While trying to fix one problem, some will end up with far worse problems.

From Jonnys: Stupid idea! Just another way to make more money off of people.

Certainly, those who may have a weakened or compromised immune system should consult with a physician before receiving most vaccines. But, in adults with a healthy immune system, such a vaccine would likely present little or no danger to the recipient. Most people with celiac disease have healthy immune systems, so the likelihood of any adverse reaction will be slight.

Of course, this is all theoretical, even at this point, as vaccine trials have so far not proven how well the vaccine actually works in preventing or curing celiac disease.

So, the question is, if such a vaccine is proven safe and effective, would you be open to trying it, or not?