Simply Organic Cocoa Brownies (Gluten-Free)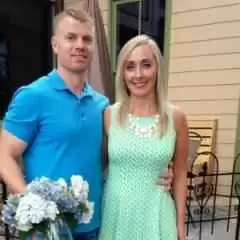 I tweeted this product review-Twitter at Gluten Free Bree-My bf's mom gave me a box of Simply Organic gluten-free cocoa brownie mix as part of a gluten free goodie package she mailed me for taking care of her son after his shoulder surgery.
It was very easy to mix up, just stir in melted butter and eggs! It's certified organic, meaning the production of the sugar, cocoa, etc. is done without chemicals, hormones, pesticides, etc.
Find more of my reviews at my new blog on glutenfreebreeze at blogspot. The texture came out great-fudgy with a light layer of crunch on top. However, the taste just wasn't there for me. The flavor was bland, not measuring up on my choc-o-meter. I'll stick with the wallet-friendly Betty Crocker. (The Namaste irritates my tummy.)