Bisquick Pancakes And The Celiac Conference May 15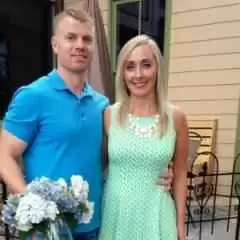 In the elevator to our hotel room (the cdf conference in L.A.), a woman commented on the Udi bread she spied sticking out from my bag on the bellman's luggage cart. This was my marine's first clue that "people like ME" were swarming the hotel.
My beau learned SO much from the speakers (Dr. Peter Green, Dr. Sheila Crowe, Dietician, Shelley Case, and Cook Extraordinaire Frank Baldassare!
My Marine needs to step up his know-how pertaining to Gluten Freedom since.. *drumroll*:
The Marine Corps is sending him to Command & Staff School for a year and so I'm going to rent my house out, sell my car, put my teaching job on hold, adopt a carefree attitude, a scarf, and a metro card...and shack up with him for a year! Funny enough, the hardest part has been thinking about glutenous tenants contaminating my virgin, high-end fridge and stove!
Back to the conference:
After dining on gluten-free Bisquick Pancakes (perfect texture, yummy, can't wait for them to hit stores this fall),and savory Jones Dairy Farm All Natural Sausage Links (thumbs way up!)we alternated between raiding the chillbump-inducing superfluous vendor sample hallways and watching the presentations. I preferred last year's lunch, this year was chicken (snore), but the Betty Crocker cupcakes were tasty. It's always such a special occasion to eat out without needing to tame & train a server and just relax and enjoy with lots of "special" people, who are "against the grain", like me! I was pleased to see lots of nutritionists at a seminar learning about gluten-free!
Now for the GOODS on the GRUB:
Foods/Products I liked and recommend:
Udi Bread (Awesome & loaf can be thawed!)




Rudi's Bread (similar to Udi's and if I see it, I'll buy it)

Glutino Chocolate covered pretzels- 2 die 4!




Asian Chicken Helper (Hamburger Helper)- pretty tasty. A good replacement for the "normal" kind




gluten-free Bisquick Pancakes- Yum with a capital Y--it came with 9 other gluten-free recipe cards to use bisquick




Jones Dairy Farms All Natural Sausage- Savory and Delicious




Kettle Cuisine Soups- I like them, but I'm too thrifty to purchase them




Soy Delicious (fake ice cream): It's rich and flavorful- cookie dough is a nice gluten-free flavor!




Zojirushi Breadmaker- the bread was good, and machine is $200 or so




Simply Gluten Free desserts- oatmeal cookies were delicious and only a tad overchewy




PureFit Nutrition bars- fair as nutr.bars go, but too pricey, I'll stick with Lara (half the price)




Bard's Tale Beer- great




French Meadow Bakery Brownies- Vey Good, texture&taste. I prefer Rudi's Raisin bread to theirs




Smooze Mango and Coconut Fruit Ice- tasty, but I use cheapie popsicles




Green's Beer- Great




The Pure Pantry Baked Goods- Delicious




Sof-ella cake mix- Good, I get it cheap at FreshNEasy




Boar's Head deli meats and cheeses and condiments are tasty and ALL gluten free




Annie's Bunny Crackers Cocoa & Vanilla- yum




Schar breadsticks and Wafer cookies- crunchy and tasty




Boulangerie Brownies and Baked Goods- Excellent- My favorite find at the conference!!!

Things I didn't like (don't waste your dough)

Simply Boulder Culinary Sauces- not creamy enough and too tart




Earth Cafe Desserts- taste like mush




Mary's Gone Crackers- taste like birdseed, CrunchMaster are better




Nature's Agave sweeteners- yuck. Better to go with real sugar




various pastas- stick with Mrs. Leepers and Tinkyada