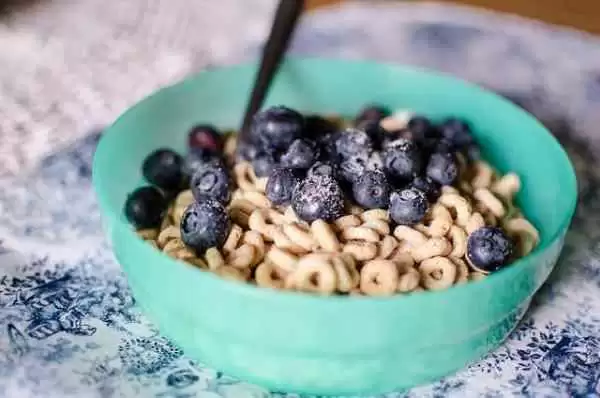 Caption: Image: CC--m01229
Celiac.com 09/01/2017 - A recent story by Buzzfeed does little to answer the question of whether Cheerios and other General Mills cereals are actually gluten-free and safe for people with celiac disease.
There are a number of folks in the gluten-free community who complain that General Mills is making people sick by selling Cheerios that they know to be contaminated with gluten due to a faulty sorting process. Because General Mills uses a flawed sorting process, the story goes, their boxes of Cheerios are subject to gluten "hot spots," which is making some gluten-sensitive folks sick, thus the complaints.
---
Celiac.com Sponsor (A12):


---
---
Celiac.com Sponsor (A12-m):


---
They point to regular complaints logged by the FDA to argue that Cheerios are clearly not gluten-free, and thus not safe for people with celiac disease. Comment sections on articles covering this topic show that plenty of people claim that Cheerios makes them sick, and triggers gluten-related symptoms.

But, one useful measure of the basic scope of an issue is numbers. What kind of numbers are we talking about? How many complaints? How many boxes of Cheerios?

It's important to realize that General Mills produces huge numbers of Cheerios each week. How many exactly? Well, according to their website, General Mills ships 500,000 cases of Cheerios each week. At about 12 boxes per case, that's about 6 million boxes each week, or 24 million boxes each month.

We know that the FDA received a number of consumer complaints in 2015, when a mix-up at a Cheerios plant in California led to mass gluten contamination, and eventually to a full recall of 1.8 million boxes by General Mills.

During that three month period, after the gluten contamination but prior to the recall, when many consumers were eating Cheerios made with wheat flour, the FDA says it received 136 complaints about adverse reactions to the product. So, during the 90 days when we know there was gluten contamination in nearly 2 million boxes of Cheerios, when people were definitely having gluten reactions, the FDA got 136 complaints. During that time General Mills shipped about 72 million boxes, and later recalled nearly 2 million of those due to gluten contamination. That's a complaint rate of about one complaint per 529,411 total boxes, and about one complaint for every 5,000 people with celiac disease; if each person with celiac ate 1 box, and the complaints came only from people with celiac disease. (Obviously this is simplified assumption for discussion purposes).

Let's imagine another 2 million gluten-contaminated boxes got to consumers. Again, imagine that 1% of those buyers were celiac, so that 20,000 boxes of the 2 million went to celiacs—one box each. 146 complaints for 20,000 boxes is about 1 complaint per 140 boxes, give or take, for each person with celiac disease. That seems like a substantial complaint rate. So, how does that rate compare to the current rate, after the recall?

Since the beginning of 2016, the FDA has received 46 reports of people with celiac disease or sensitivity to gluten or wheat linking their illness to General Mills cereals, including Cheerios and Lucky Charms.

Let's forget about Lucky Charms for a minute, let's focus on Cheerios. During the 18 months from January 2016 to July 2017, General Mills has shipped something like 450 million boxes. That's about one complaint for every 10 million boxes of Cheerios, or about one complaint for every 100,000 people with celiac disease.

And those numbers don't include Lucky Charms, which account for some portion of the 46 complaints since early 2016. If General Mills is having an issue with sorting oats, then why have complaint ratios gone down so sharply?

Also, General Mills uses its optically sorted gluten-free oats for other products. The FDA is certainly taking all of this into account. When they get complaints, they look at large amounts of data to help them put things into perspective. Has the FDA seen corresponding numbers of complaints for different General Mills products made from the same oat sorting process? It doesn't seem so.

Celiac.com has covered the gluten-free Cheerios story from the beginning, and will continue to do so. We stand on the side of science, and accurate information.

Beyond the obvious gluten-contamination that led to the recall, we have been skeptical of claims that General Mills' sorting process is flawed, and that their products, including Cheerios are routinely contaminated with gluten.

If this were true, we think the numbers would be very different, and that the pattern of official complaints would reflect that reality. We also feel that General Mills would be facing down lawsuits from hungry trial lawyers looking to put a big trophy on the wall.

We have simply not seen any good evidence that supports claims that Cheerios and other General Mills products are contaminated with gluten "hotspots" that cause reactions in people with celiac disease. We have also not seen evidence that rules out adverse oat reactions as the cause of many of these claims.

If someone out there has different numbers, or better information, we are all ears. However, until we see convincing evidence to the contrary, Celiac.com regards Cheerios and other General Mills products as safe for people with celiac disease and gluten-sensitivity. We do offer the caveat that people should trust their own judgement and avoid any food they think makes them sick.

Stay tuned for more on this and other stories on gluten-free cereals and other products.

Read more at BuzzFeed.com and GeneralMills.com.