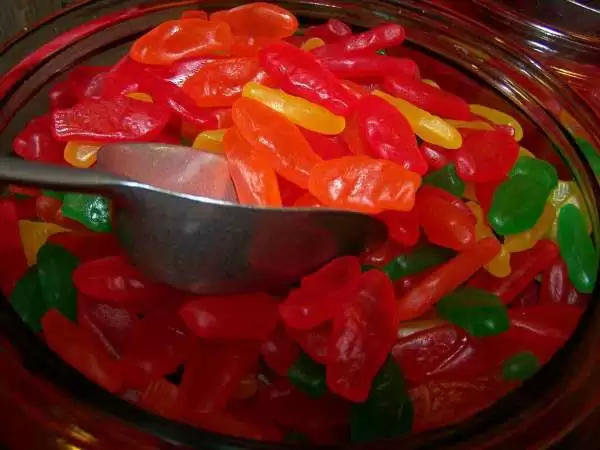 Caption: Image: CC BY-ND 2.0--cathyse97
Celiac.com 12/22/2020 - We get countless questions about celiac disease and candy. Believe it or not, one question we get a lot is about Swedish Fish. Specifically, are Swedish Fish gluten-free and safe for people with celiac disease? 
Swedish Fish is a popular brand of gummy candy. A number of major gummy candy brands contain wheat starch, including some Warheads, Haribo and SweeTARTS, so what's the deal? Are Swedish Fish gluten-free and safe for people with celiac disease?
---
Celiac.com Sponsor (A12):


---
---
Celiac.com Sponsor (A12-m):


---
When most people think of Swedish Fish, they think of the pale red, orange, yellow or green colors of gummy candy. While not labeled as gluten-free, Swedish Fish contain no gluten ingredients, and they are regarded by many as naturally gluten-free, and specifically the versions made by Cadbury Adams, now owned by Mondelez. If you only eat items that are clearly labelled "gluten-free" on their packaging, you may want to avoid Swedish Fish.
Swedish Fish Varieties:
Swedish Fish Assorted Candy
Swedish Fish Assorted Soft & Chewy Candy
Swedish Fish Bags Original Soft & Chewy Assorted Candy
Swedish Fish Black Licorice flavor (by Malaco)
Swedish Fish Brand Soft & Chewy Candy Christmas Colors
Swedish Fish Candy
Swedish Fish Candy Go-Paks!
Swedish Fish Eggs Assorted Soft & Chewy Candy
Swedish Fish Hearts BG
Swedish Fish Original Soft & Chewy Candy
Swedish Fish Soft & Chewy Candy
Swedish Fish Soft Candy Berry Fat-Free
Swedish Fish Treatsize Packages
According to Mondelēz, the company "takes great pride that their products are safe and properly labeled." Mondelēz clearly labels its products for all seven of the major allergens, including wheat, milk, peanuts, eggs, fish, crustacean, shellfish, soy, and tree nuts. 
In addition, Mondelēz tracks other allergens including sesame seeds, mollusks, celery, mustard, poppy seeds, and sunflower seeds. All products are tested to ensure less than 10 ppm of any allergen.
The original maker of Swedish Fish, Malaco, still sells wine gum Swedish Fish in Sweden, where the candies are called "pastellfiskar" (pale-colored fish), and are also available in a black licorice flavor. Both the black and assorted colors of Swedish can be purchased on Amazon, among other places.
Black Swedish Fish contain: Sugar, glucose syrup, corn starch, ammonium chloride (liquorice), licorice extract, stabilizer (Mono- and di-glycerides of fatty acids), vegetable oils (coconut, palm ), aroma, color (Carbon ), glazing agent (beeswax).
All other colors of Swedish Fish contain: SUGAR, INVERT SUGAR, CORN SYRUP, MODIFIED CORN STARCH, CITRIC ACID, WHITE MINERAL OIL, NATURAL AND ARTIFICIAL FLAVOR, RED 40, CARNAUBA WAX.
All varieties of Swedish Fish appear on Celiac.com's Safe Gluten-Free Halloween Candy list.
None of the Swedish Fish labels we reviewed contain any gluten ingredients. However, ingredients and labels can change, so stay vigilant.