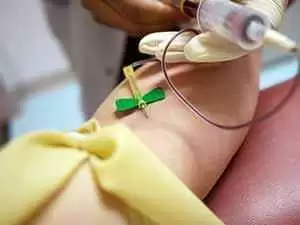 Caption: Photo: CC--Thirteen Of Clubs
Celiac.com 12/03/2012 - Gluten sensitivity has recently been added to the spectrum of gluten-related disorders, but precise diagnostic markers do not yet exist. A research team recently set out to understand the blood test pattern of gluten sensitivity, and to compare it with the blood test pattern seen in celiac disease.

The researchers included U. Volta, F. Tovoli, R. Cicola, C. Parisi, A. Fabbri, M. Piscaglia, E. Fiorini, G. Caio, of the Department of Clinical Medicine at University of Bologna's St. Orsola-Malpighi Hospital in Bologna, Italy.
---
Celiac.com Sponsor (A12):


---
---
Celiac.com Sponsor (A12-m):


---
For their study, the researchers looked at blood samples from 78 patients with gluten-sensitivity and 80 patients with celiac disease. They assessed levels of immunoglobulin (Ig)G/IgA antigliadin antibodies (AGA), IgG deamidated gliadin peptide antibodies (DGP-AGA), IgA tissue transglutaminase antibodies (tTGA), and IgA endomysial antibodies (EmA).

They found positive readings for IgG AGA in 56.4% of patients with gluten-sensitivity, and in 81.2% of patients with celiac disease. Antibody levels for both groups were in the high range.

They found IgA AGA in 7.7% of patients with gluten-sensitivity, and in 75% of patients with celiac disease, which shows lower enzyme-linked immunosorbent assay activities in gluten-sensitivity patients than in patients with celiac disease.

Only 1 of the 78 patients with gluten-sensitivity tested positive for IgG DGP-AGA, which was found in nearly 90% of patients with celiac disease.

All patients with gluten-sensitivity tested negative for IgA tTGA and IgA EmA, while 98.7% of patients with celiac disease tested positive for IgA tTGA, and 95% were positive for IgA EmA.

Patients with gluten-sensitivity presented a variety of intestinal and extra-intestinal symptoms, including abdominal pain, bloating, diarrhea, constipation, foggy mind, tiredness, eczema/skin rash, headache, joint/muscle pain, numbness of legs/arms, depression, and anemia. Small intestinal mucosa for these patients was either normal or only mildly abnormal.

The data from these blood tests show that more than half of patients with gluten sensitivity will test positive for IgG AGA, and a small number will test positive for IgA AGA, but none will show positive results for EmA, tTGA, and DGP-AGA, which are the specific markers of celiac disease.

Source: