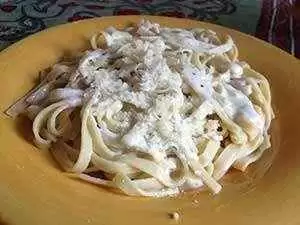 Gluten-free food companies are really starting to figure this pasta thing out, but there still aren't many fresh, gourmet-oriented options on the market. Cappello's provides a formidable entry with their almond flour-based gluten-free fettuccine. It's lower on the glycemic index than corn- or rice-based options, and it tastes fantastic.

Fettuccine alfredo really has to be one of the top five comfort foods of all time. It's delicious (for obvious reason), but really only done right with fresh pasta and a homemade sauce; if you're going to splurge on calories, make them count! It's notoriously hard to get the gluten-free thing right, but Cappello's nailed it. The texture and consistency of their fettuccine are both spot on, and it tastes just like fresh wheat-based pasta, but with a subtle almond flavor. Long story short, Cappello's gluten-free fettuccine is much better than any gluten-free pasta I've tried, and it's some of the best fettuccine I've tasted, gluten-free or otherwise.
---
Celiac.com Sponsor (A12):


---
---
Celiac.com Sponsor (A12-m):


---
For more information, visit their website.
Note: Articles that appear in the "Gluten-Free Food Reviews" section of this site are paid advertisements. For more information about this see our Advertising Page.