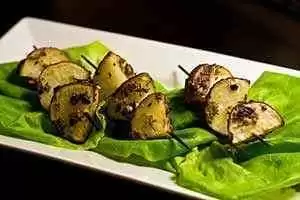 Caption: The finished skewered potatos. Photo: CC--ayngelina
Celiac.com 08/15/2013 - Potatoes are such simple, lovely, delightful things. They can be made so many different ways, and can be used to anchor so many meals. I don't usually grill them on skewers, so that makes this recipe even more fun.
These skewered potatoes make a nice complement to numerous grilled foods. They pair well with most meats and fishes, and are a nice way to round out any good grilling session.
---
Celiac.com Sponsor (A12):


---
---
Celiac.com Sponsor (A12-m):


---
Make it more fun by getting as many small, differently colored potatoes you can and making colorful skewers. The different flavors of the various potatoes will enliven the

Ingredients:
1-2 dozen small potatoes, assorted colors, quartered
2-4 cloves garlic, minced
1-2 tablespoons olive oil
1 teaspoon onion powder
½ to 1 teaspoon fresh thyme, minced
10-12 wooden skewers, soaked
Kosher salt and pepper to taste
Directions:
Wash and dry potatoes.
Place 4 or 5 potatoes on each skewer. Place 2-4 skewers each on a sheet of foil. Brush with olive oil, and minced garlic. Add Onion powder, salt, and pepper. 
Note: If you can't get small potatoes, cut larger ones into about one-inch chunks.
Fold foil carefully, so that potatoes are enclosed, and the dull end of the skewers pokes out the end of the foil. Pinch foil around the ends.
Place on grill for 20 minutes or so, until potatoes are cooked through. Remove from grill. Remove foil and serve with other meat kebabs.