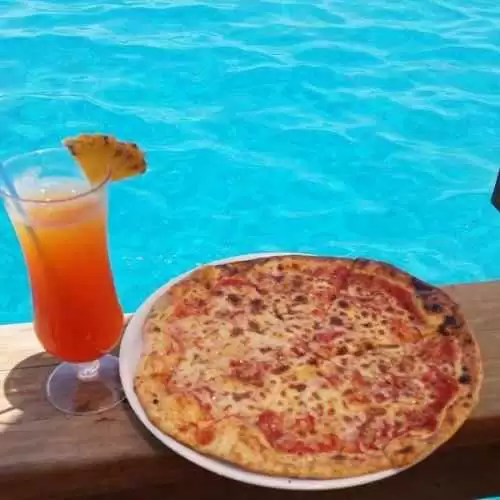 Caption: This is your beverage. This is your gluten-free pizza. This is your ocean. Any questions?
Celiac.com 06/02/2015 - Consider the real estate saying about: Location, location, location. Now, ask yourself how far would you go for a good gluten-free pizza?
Or, alternatively, imagine yourself out in the middle nowhere, the middle of the pacific ocean, say, and ask yourself how over-the-top happy would you be to discover a floating bar serving cold beverages and wood-fired gluten-free pizzas?
---
Celiac.com Sponsor (A12):


---
---
Celiac.com Sponsor (A12-m):


---
I'm guessing you would be very happy. You might even say you were on "Cloud 9." And, if you happened to be in Fiji, you would be correct.

For Cloud 9 is the name for a bar and restaurant that floats off the west coast of the pacific island of Fiji, boasting a full bar, and wood fired Italian-style pizzas, including, yes, gluten-free pizzas.

So, if you're lucky enough to find yourself in Fiji, and catch a boat or jet ski tour from the main island of Viti Levu, you can reach the picturesque oasis in about 45 minutes.

Once there, you can take a seat at the bar, or grab a daybed or hanging chair. Feel free to plunge off the deck at any time and splash and frolic in the crystal clear blue water, while your gluten-free pizza cooks to perfection.

Sipping your beverage of choice, nibbling away pizza as you ponder the sunny azure splendor of it all, I'm sure you'll feel that your pizza is, if the not best in the world, very much the most amazing.

Cloud 9 even has DJs on the weekend and can accommodate weddings.

For more information on Cloud9, including information on transportation from Fiji, check out the Cloud9 website.