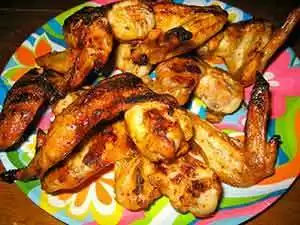 Caption: Photo: CC--Kevin Lawver
In addition to being high in fat, deep-frying can sometimes be a hassle, especially in the summer, since it can heat up the house. So on hot summer days, or when I want a healthier version of my favorite chicken wings, I cook them outside on the grill.
Here's a recipe for chicken wings you can do on the grill. These wings taste great with your favorite gluten-free beer or other summertime beverages, and are sure to please your hungriest snackers.
---
Celiac.com Sponsor (A12):


---
---
Celiac.com Sponsor (A12-m):


---
Ingredients:
25 chicken wings, segmented and patted dry with paper towels
½ cup unsalted butter, melted
1½ cups hot pepper sauce (Louisiana Brand or other gluten-free brand)
2 tablespoons garlic powder
2 tablespoons onion power
2 tablespoons paprika
4 tablespoons lemon pepper
2 tablespoons coarse-ground black pepper
Directions:
In a large mixing bowl, mix together garlic and onion powders, paprika, lemon pepper and black pepper.
In a smaller bowl, stir in the melted butter, gluten-free hot pepper sauce and mix well.
Combine garlic powder, and black pepper together in a large mixing bowl, and mix well.
Note: If you buy frozen chicken wings, make sure they are well-thawed before you start preparing them.
Place chicken wings into a non-metallic bowl and pour some of the hot sauce mixture over them. Mix until they are well coated. Reserve the rest of the sauce for later. Keep the reserved sauce warm enough to keep the butter melted.
One by one, use tongs to place the chicken wings in the spice mixture and place on a plate. I usually let them sit for a half hour or so to dry a bit before cooking.
Place the wings on a medium-high heat on the grill--about 350-375 degrees F. Be sure to turn them as necessary and cook to desired crispness.
Grilled chicken wings tend to flare up quite a bit on the grill, so it's a good idea to keep a squirt bottle of water near the grill.
Add the cooked wings to the sauce and turn to coat; transfer to a serving platter.
I like to serve them with sides of gluten-free ranch, or blue cheese dressing, along with some celery and/or carrot sticks. Oh, and don't forget your favorite gluten-free beer or beverages.