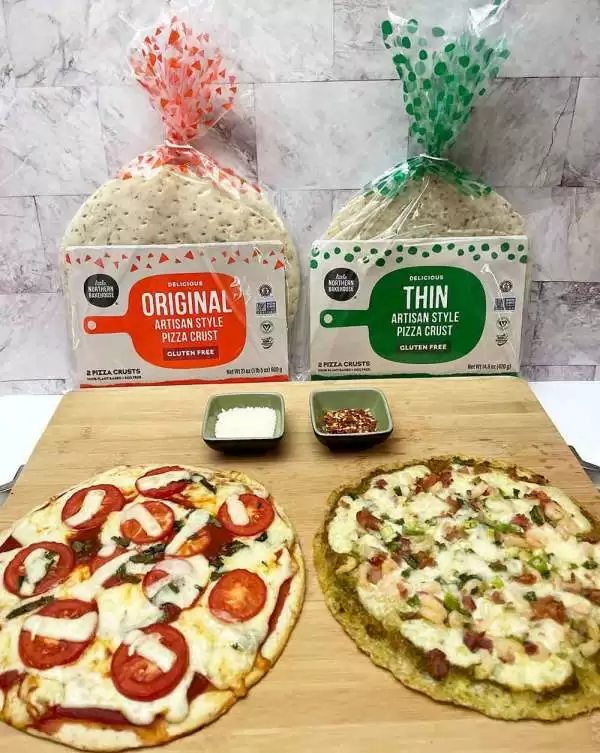 Caption: Pizza marinara with tomatoes, and on right pesto, shrimp, bacon and basil. Image: Mei Adams
Celiac.com 12/16/2020 - If you're like me, you care a great deal about the quality of ingredients that are used in everything you eat. Did you ever wonder about the quality of ingredients in some of the commercially prepared frozen pizzas that are on the market? Do you think they use the freshest, best quality mozzarella? How about fresh basil or homemade garlic-tomato sauce? I am very picky about ingredients, for example the type of pepperoni I like, so for me Little Northern Bakehouse's new Original and Thin Artisan Style Gluten-Free Pizza Crusts are the perfect solution.
Although I may be picky about my pizza ingredients, I'm not necessarily into making gluten-free pizza dough from scratch every time I want a pizza—like most people I do appreciate convenience. Little Northern Bakehouse's prepared regular and thin pizza crusts are like a convenient "canvas" that allows me to become a "pizza artist," and use whatever quality ingredients I feel like at the time to make a wonderful pizza in only minutes. I also love that they offer both regular style crust and thin crust, and I found both to be amazing!
---
Celiac.com Sponsor (A12):


---
---
Celiac.com Sponsor (A12-m):


---
In addition to their pizza crusts being certified gluten-free, they are also vegan, non-GMO, allergen-friendly, and are made using only the finest ingredients available, like chick pea flour, ground and whole flax seed, rice flour, and tapioca starch. A single slice offers 4% of your daily recommended fiber, which can't be said for many other gluten-free pizza crusts.

To give you a better idea of Little Northern Bakehouse's quality and product range, be sure to check out some of the other product reviews we've done: Gluten-Free Classic Dinner Rolls, 4 Varieties of Certified Gluten-Free Bagels, Sprouted Honey Oat & 7 Grain Gluten-Free Breads, and their Millet & Chia Hot Dog & Hamburger Buns.

Visit their site for more info.