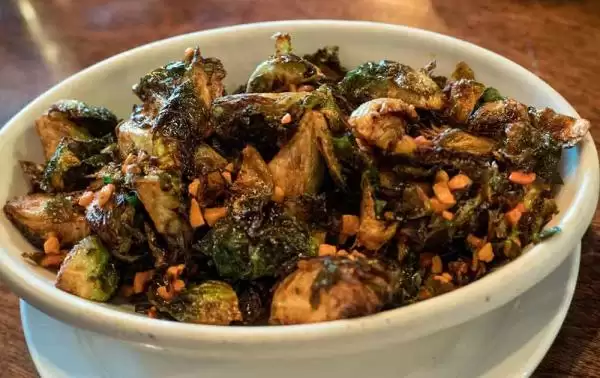 Caption: Image: CC--Edsel Little
Celiac.com 03/09/2019 - Spring is a great time for root vegetables, and Brussels sprouts are a regular favorite. A little red wine vinegar helps these Brussels sprouts turn a corner. Pecans and Parmesan do the rest. Enjoy!
Ingredients:
1 cup pecans, broken
1 pound Brussels sprouts, cleaned and cut in half
2-3 tablespoon extra-virgin olive oil, plus extra
1 tablespoon red wine vinegar
½ cup grated Parmesan
Kosher salt and pepper to taste
Directions:
Heat oven to 350˚F. Toast the pecans on a sheet tray for about 5-6 minutes. Set aside.

Increase oven temperature to 450˚F. 

Toss Brussels sprouts in a bowl with olive oil, and season with salt and pepper.

Spread on sheet tray and roast about 20 minutes until fork-tender and some outer leaves caramelize and char.

Let sprouts cool, and then toss with pecans.

Drizzle with red wine vinegar and olive oil, and season with salt and pepper. 

Sprinkle with Parmesan cheese and serve.