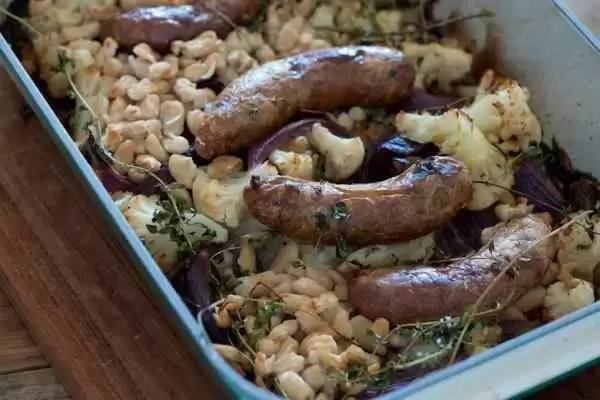 Caption: White beans and sausages anchor this savory dish. Shown here with baked sausages. Photo: CC--Jules
If you're looking for an easy, savory meal that's sure to satisfy, then give this dish a try. It's a hearty treat that's just perfect for fall.
Ingredients:
1 pound pound Polska kielbasa
2½ cups cannellini, or navy beans, rinsed and drained
2 cups chicken broth
3 cloves of garlic
2 teaspoons dried oregano
½ teaspoon onion powder
1 tablespoon olive oil
2 medium tomatoes, diced
5 cups baby spinach leaves
1 small head of cauliflower, cut into smaller chunks
Freshly ground black pepper, as desired
---
Celiac.com Sponsor (A12):


---
---
Celiac.com Sponsor (A12-m):


---
Directions:
Cook the sausage in a cast iron skillet or non-stick pan on medium high.

Sear the sausage well, then slice as desired.

Put the beans in a medium bowl, add the cooked sausage, pan drippings, and put aside.

Leave the oil from the sausages in the pan, and add the cauliflower.

Place in an oven at 400F, and roast until tender, about 20 minutes.

While the cauliflower roasts, put the chicken broth and garlic in a large pot.

Bring to a simmer over medium-high heat.

Add the oil, oregano, onion powder, sausage and beans from the skillet.

Stir well and the tomatoes.

Heat until beans are tender.

Add spinach and cook just until the leaves are wilted.

Stir well and serve.

You can add the cauliflower to the pot as you wish, or serve in on the side.

Also, you can bake the sausages if you like, just reserve the pan drippings and do everything else as per the recipe.