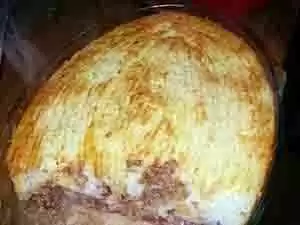 Caption: Photo: CC--Denni Schnapp
Celiac.com 01/16/2014 - Okay, so I'm a huge fan of shepherd's pie, going so far to freeze huge batches to eat for weeks after I make it.
I'm always keen to try new takes on shepherd's pie to satisfy my culinary curiosity. This version combines seasonal root vegetables like carrots, rutabaga, and parsnip with lamb, peas onions and garlic in a rich tomato sauce to serve up a big helping of shepherd's pie love.
---
Celiac.com Sponsor (A12):


---
---
Celiac.com Sponsor (A12-m):


---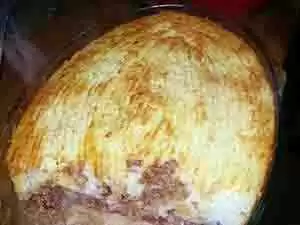 Ingredients:
3 cups prepared mashed potatoes
1 pound ground lamb
1 stalk celery, chopped
1 cup fresh mushrooms, sautéed, optional
1 medium onion, chopped
1 clove garlic, chopped
1 leek, white only, chopped
3 carrots, peeled and chopped
1 parsnip, peeled and diced
1 small rutabaga, chopped
¼ cup frozen green peas
1 (8 ounce) can tomato sauce
½ cup milk, or cream, as needed
1 teaspoon salt
¼ teaspoon garlic powder
¼ teaspoon onion powder
½ teaspoon ground black pepper
⅓ teaspoon dried thyme
2 tablespoons grated Roman cheese
1-2 teaspoons butter for cooking
Directions:
In a medium pan, over medium-high heat, sweat the mushrooms until they give up their water. Remove from heat, drain well, and set aside.
Heat the oven to 350 degrees F (175 degrees C).
In a medium pan, sauté leeks and onion in a bit of butter until translucent.
Place the celery, carrots, parsnip, rutabaga, and peas into a large saucepan and fill with 1 inch of water.
Bring to a boil, cover, and steam for 15 minutes, or until vegetables are tender.
Meanwhile, break the ground lamb into a large skillet, and heat to medium.
Cook and stir until lamb is browned. Drain off excess grease.
To the lamb, add mushrooms, onion and garlic, salt, pepper, thyme, garlic powder and onion powder to the tomato sauce. Stir in the steamed vegetables and mix well.
Transfer everything to a greased 7x11 inch or 9x11 inch casserole dish (depending on how thick you like the potatoes).
Mix enough milk or cream into the mashed potatoes to make them spreadable.
Spread them over the top of the meat and vegetable mixture and garnish freely with Romano cheese.
Bake for 20-25 minutes until the top is browned and the inside is heated through.