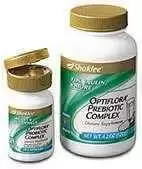 Caption: Gluten-free prebiotics and probiotics are a must for celiacs.
I have been taking probiotic supplements for a long time, but nothing has worked as well for me as Shaklee Optiflora Two-Product System with Prebiotic & Probiotic. Every since I started Shaklee's gluten-free prebiotics and probiotics I feel so much different--I feel like I have more energy.
This is a high quality system that is designed to provide needed support for our digestive tracts.  According to Shaklee the Optiflora Probiotic Complex uses a "patented triple layer encapsulation technology to protect live probiotics and guarantee their delivery into the intestine,"  which can enhance energy levels and provide excellent support for our bodies.
---
Celiac.com Sponsor (A12):


---
---
Celiac.com Sponsor (A12-m):


---
Shaklee Optiflora Probiotic Complex contains bifidus and acidophilus, which support long-term intestinal and colon health. For those with celiac disease or other digestive issues high quality probiotics like these are a must.

Shaklee Optiflora Prebiotic Complex is intended to provide a welcome environment for the friendly, beneficial bacteria that live and work in the colon.

Due to the positive response my body has had to these products I plan to continue taking them long term.

Visit their site for more info: http://insideout.myshaklee.com/us/en/products.php?sku=80638


 

 

 

Note: Articles that appearin the "Gluten-Free Product Reviews" section of this site are paid advertisements. For more information about this seeour Advertising Page.