Celiac Disease and Gluten-Free Diet Support
---
---
---
---
Follow / Share
FOLLOW US:
SHARE:

Popular Articles
Blood Pressure Drug Side Effects Mimic Celiac Disease
Blood Pressure Drug Side Effects Mimic Celiac Disease
Published 06/25/2012
Rating:
Celiac.com 06/25/2012 - If you have received a celiac disease diagnosis while taking heart pressure medication, it turns out you might not actually have celiac disease. An investigation led by Dr. Joseph Murray has shown that certain blood pressure medication can cause symptoms not unlike those commonly attributed to celiac disease, and going off the drug can stop the symptoms.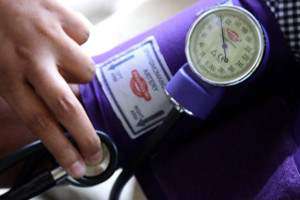 Between 2008 and 2011, 22 patients on the blood pressure medication olmesartan (sold as Benicar) exhibited clear symptoms of celiac disease: intestinal inflammation and abnormalities, chronic diarrhea and weight loss (median weight loss of 39 pounds). One of the patients lost an astounding 125 pounds, and fourteen of the patients exhibited symptoms so severe as to require hospitalization.
All of the patients were diagnosed with celiac disease based on symptoms and intestinal biopsy results, but gluten-free diet caused no improvement in any of the patients. Furthermore, their blood tests came back with results that did not match up with a celiac disease diagnosis.
After taking the patients off olmesartan, all of their symptoms showed dramatic improvement. Eighteen of the 22 had subsequent intestinal biopsies, which revealed improvement in that area as well. It would seem then, that the medication causes celiac-like symptoms.
Some in the medical community have questioned the causal relationship of olmesartan to the symptoms though. As Dr. Franz Messerli of St. Luke's-Roosevelt Hospital, New York argues, "Only re-exposure [to the drug] can confirm the GI side effects were indeed due to olmesartan."
The sample size has also been called into question by Dr. Henry Black of NYU-Langone Medical Center, who claims that the side effects are highly uncommon and that he uses the drug all the time with no adverse effects. Some have even proposed that the reaction is the result of a drug allergy rather than symptoms related to the mechanism of the drug itself.
The conclusion one can draw from Dr. Murray's findings and subsequent criticisms, is that it is highly likely that olmesartan can cause celiac-like symptoms, but it is not entirely clear how often or why. Those who take it and experience such symptoms (or have gotten a celiac diagnosis while on the drug) should discuss switching to another medication with their doctors. It is still unclear if these symptoms are specific to olmesartan, or can be caused by the entire ARB family of drugs.
As Dr. Murray says, "it's really an awareness issue. We want doctors to be aware of this issue, so if they see a patient who is having this type of syndrome — they think about medications as a possible association."
Sources:
Celiac.com welcomes your comments below (registration is NOT required).

Get Email Alerts (More Info)
Article Options
Gryphon Myers
Gryphon Myers recently graduated from UC Berkeley with a degree in interdisciplinary studies, research emphasis in art, society and technology. He is a lifelong vegetarian, an organic, local and GMO-free food enthusiast and a high fructose corn syrup abstainer. He currently lives in Northern California. He also writes about and designs video games at Homunkulus.
View all articles by Gryphon Myers
In Celiac.com's Forum Now:
Hi all: I was diagnosed with Celiac in 2010 with blood testing and small bowel biopsy. I have been following a gluten-free diet since and a lot of my symptoms and skin problems have gotten better. However, I was at the beach and got bitten by flies and after biopsy of my legs and a whole H...
Yeah my family stopped doing gifts a few years ago when we had a grandparent on each side of the family die. After that no one meets up, no gifts, no one even does cards. I tried 2 years ago to give all my relatives gifts, hand written cards......None of them even said thanks. Next year I said I ...
This paper from 2015 suggests the opposite is true: High Proportions of People With Nonceliac Wheat Sensitivity Have Autoimmune Disease or Antinuclear Antibodies. https://www.ncbi.nlm.nih.gov/m/pubmed/26026392/ Of course correlation does not equal causation, but it is compelling an...
Is there anything I can take after I have accidentally consumed gluten
Thanks Matt again My Doctor just moved away so i dont even have a doctor at the moment, thats why its so hard, ill pretty much be going to some random doctor who doesnt know me at all and asking for a celiac test, hopefully i pick a good one ps you can have the ashes for being helpful