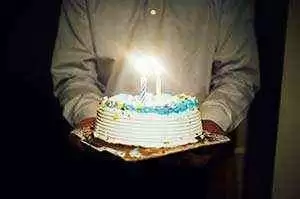 Celiac.com 08/14/2014 - I have missed ice cream cakes since I was diagnosed with celiac disease. Below is a make-ahead ice cream cake for a gluten-free birthday celebration, so that no one has to miss ice cream cake again!
You will need:
1 Gluten Free Betty Crocker Devil's Food Cake Mix
½ - 1 gallon Gluten Free Vanilla Ice Cream, or Favorite gluten-free Ice Cream Flavor
1- 2 Containers Duncan Hines or other Gluten Free Fudge Frosting
Cake Decorating Frosting, optional to write happy birthday message
Candles, optional for birthday party.
---
Celiac.com Sponsor (A12):


---
---
Celiac.com Sponsor (A12-m):


---
Directions:
Bake the Gluten free Devil's Food Cake as per box instructions, in two 8" cake pans. Remove from oven and cool.
When the cake is completely cool, take the ice cream out of freezer to soften.
Place one Gluten Free Cake Layer on a cake platter. Put an even layer of softened ice cream on top. Next, place the other Gluten Free Cake Layer on top of the softened ice cream. If the ice cream is getting to soft place the cake in the freezer for 10 minutes before frosting.
After frosting the cake put it back into the freezer until about to serve.
Take out 10 minutes before serving, add birthday candles to top if using and enjoy!
"Eat well and live well!"-Melissa Bess Reed