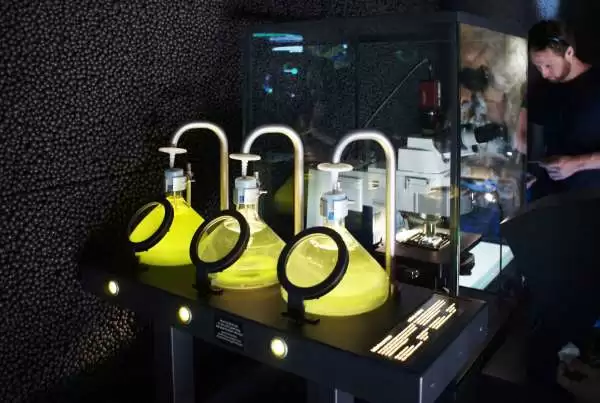 Caption: Micropia, microbes museum, Amsterdam. Image: CC BY 2.0--Dmitry Eliuseev
Celiac.com 08/11/2020 - Research shows that people with celiac disease have an altered gut microbiota, compared with healthy control subjects. A team of researchers recently set out to evaluate the composition of the microbiota of children at celiac onset, and the connection between bacterial abundances and symptoms.
The research team included Anna Rita Di Biase, Giovanni Marasco, Federico Ravaioli, Elton Dajti, Luigi Colecchia, Beatrice Righi, Virginia D'Amico, Davide Festi, Lorenzo Iughetti, and Antonio Colecchia. They are variously affiliated with the Pediatric Unit, Modena University Hospital, Modena, Italy; the Department of Medical and Surgical Sciences, University of Bologna, Italy; and the Gastroenterology Unit of University Hospital Borgo Trento in Verona, Italy.
---
Celiac.com Sponsor (A12):


---
---
Celiac.com Sponsor (A12-m):


---
Celiac patients were consecutively enrolled at Pediatric Unit referring for suspected celiac disease. healthy control subjects were also included in the study. Stool and duodenal samples were collected and evaluated by HTF-Microbi.Array.

The study team enrolled twenty-one celiac patients and 16 healthy control subjects. A total of twenty-three subjects were female (62%). Duodenal microbiota of celiac patients showed a dominance of Enterobacteriaceae and sub dominance of Bacteroidetes/Streptococcus, while stool microbiota showed a lower abundance of Bacteroides-Prevotella (p=0.013), Akkermansia (p=0.002) and Staphylococcaceae (p=0.001) in celiac patients compared to healthy controls. 

Patients with abdominal pain showed an increased mean relative abundance of Bacillaceae and Enterobaeriaceae, while celiac patients with diarrhea had reduced mean relative abundance of Clostridium cl. XIVa, Akkermansia, with an increase in Bacillaceae, and Fusobacterium.

The team's results show that children with celiac disease have different gut microbiota than healthy non-celiac control subjects, with imbalances in pro-inflammatory microbiota being tied to celiac symptoms. The team calls for further study of the exact connection between gut microbiota and early-onset and symptoms of celiac disease. Learning more about the changes to the gut microbiota of children as they develop celiac disease may offer new paths to diagnosis and treatment in the future.

Read more at the J Gastroenterol Hepatol. 2020 Jul 14