You want decadence? Want to feel like you're sitting down to the first course of a very sumptuous dinner at the finest country manor house? This rich, velvety wild chanterelle mushroom soup will do the trick.
This recipe is a bit involved, but don't be put off. If you can get wild chanterelles, have some time cook, and want an over-the-top mushroom soup, it is well worth the effort.
---
Celiac.com Sponsor (A12):


---
---
Celiac.com Sponsor (A12-m):


---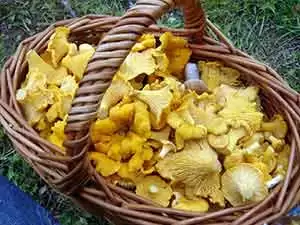 Velouté Ingredients:
6 cups chicken stock
2 tablespoons unsalted butter
2 tablespoons potato flour
Soup Ingredients:
1½ pounds wild chanterelle mushrooms, cleaned and trimmed
1 leek, washed and minced
2 shallots, minced
3 cloves garlic, minced
½ teaspoon crushed red chili flakes
4 tablespoons unsalted butter
3 egg yolks
½ cup cream
1 shot añejo tequila
¼ teaspoon saffron
Salt to taste
Directions:
Heat the stock to a bare simmer. In another pot, heat the butter until frothing and stir in the flour. Stirring all the while, let this cook for a few minutes over medium heat. Do not let it brown.
Whisk the hot stock into the roux and let this simmer for 20 minutes, whisking often.
Let it slowly cook down by at least ⅓ until it silky looking.
While the velouté is simmering, make the mushroom base.
Mince the mushrooms, leeks and shallots and sweat them in a sauté pan over medium heat with a touch of salt. Cook gently, stirring often, until the leeks and shallots are translucent and the mushrooms give up their water.
Crumble the saffron into the tequila and add it to the mushroom base.
Turn the heat up to high and toss or stir to combine.
Cook until the tequila is nearly gone.
Purée the mushroom base in a food processor. I like a slightly chunkier soup, so I do not push this puree through a fine-mesh strainer, though you may do so for a really silky finish.
When the velouté is rich and silky, add the mushroom puree and stir well to combine. Cook this at a bare simmer for 10 minutes.
Beat together the egg yolks and cream, then ladle, little by little, some soup base into the egg-cream mixture. This is called a liaison, the goal is to temper the eggs with the hot stock slowly, so they mix well and do not congeal, so go slow!
Once you have 3-4 ladles of soup into egg-cream mixture, pour it all back into the soup and simmer.
Remember: SIMMER! DO NOT BOIL!
To finish the soup, turn off the heat and whisk in the remaining butter.
Serve with the seared mushrooms in the center, with a dry white wine.
For an optional mushroom garnish, slice a few chanterelles lengthwise and sear them in an dry pan until they give up their water and brown.
This soup goes great alone, or as a prelude to a more detailed meal.