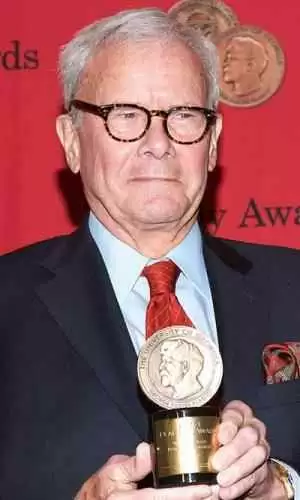 Caption: Tom Brokaw. Photo: Wikimedia Commons
Celiac.com 05/29/2015 - On Thursday, May 7, Dateline featured Tom Brokaw's journey with multiple myeloma, a serious blood malignancy that develops in bone marrow.

Now an author of a recent book on gluten and health is saying that Brokaw's cancer may be linked to adverse gluten reactions.
---
Celiac.com Sponsor (A12):


---
---
Celiac.com Sponsor (A12-m):


---
Numerous cancers, including non-Hodgkin's lymphoma, throat/esophageal, stomach/intestinal/colon, and multiple myeloma are now being connected to gluten consumption, says Anne Sarkisian, author of "Toxic Staple: How Gluten May Be Wrecking Your Health — And What You Can Do About It!!"Â

Scientific research suggests that multiple myeloma may be linked to gluten, says Sarkisian, "and thousands of scientific studies from around the world link gluten to over 300 symptoms, diseases, and associated conditions."Â

"Early detection of celiac disease is vital to reducing complications such as lymphoma and many other cancers and diseases. Does this mean a gluten-free lifestyle is preventative medicine? More alternative medical experts advocate this approach,"Â says Sarkisian.

Could Brokaw's multiple myeloma be related to gluten? Possibly. Sarkisian's claim sounds good, and may be true, but, at the end of the day, there's just no way to know for sure.

It is true that early detection of celiac disease is vital to reducing complications such as lymphoma and many other cancers and diseases, and it is also true, as Sarkisian asserts, that "More alternative medical experts advocate this approach [a gluten-free diet],"Â for many people without celiac disease. 

Source: