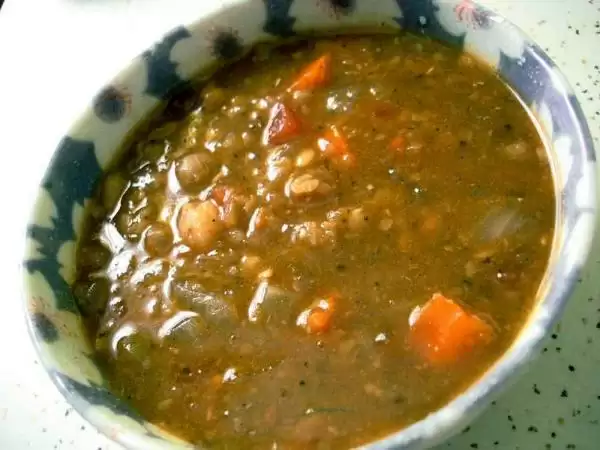 Caption: Image: CC--bindifry
Celiac.com 01/05/2019 - A good lentil soup or stew recipe can be a potent weapon in your cooking arsenal. Easy to make, delicious, and perfectly hearty for a chilly day, this lentil recipe marries green or brown lentils with onions, celery, potatoes and tomatoes with coriander, cumin and turmeric to make a delicious stew that is sure to please. Alone or over rice, this lentil stew will have them coming back for more.
Ingredients:
1½ cups dried green or brown lentils
1 large rib celery
1 medium carrot
1 medium yellow onion
1 large russet potato
1 can whole tomatoes with juice (28-ounces)
2 tablespoons extra-virgin olive oil, plus more for drizzling
1 teaspoon ground coriander
1 teaspoon ground cumin
1 teaspoon ground turmeric
Dash of ground cayenne pepper 
2½ cups water
Kosher salt
Freshly ground black pepper
6 stems parsley
1 lime, for serving
---
Celiac.com Sponsor (A12):


---
---
Celiac.com Sponsor (A12-m):


---
Directions:
Place the dry lentils in a bowl and cover with water; let sit while you prep and start to cook the vegetables.

Clean and peel the carrot, and slice.

Dice the celery into bite-sized chunks.

Dice the onion into bite-sized chunks. 

Peel and cut the potato into bite-size chunks. 

Pour the can of tomatoes with juice into a bowl.

Coarsely chop tomatoes in the bowl.

Heat the oil in a large pot over medium-high heat. Once the oil shimmers, stir in the zucchini, if using, the celery, carrot, onion and potato. 

Cook for about 5 minutes, stirring occasionally, until the onion is soft. 

Drain the lentils, then add to the pot, along with the ground spices. 

Pour in the tomatoes and juice, and the 2½ cups of water, along with 1 teaspoon each of salt and pepper. 

Bring the mixture to a boil, cover and cook for 5 minutes.

While the stew cooks, finely chop the parsley leaves. Cut the lime into wedges.

Lower the heat to medium-low, cook for 10 to 15 minutes, stirring a few times, until all the vegetables are tender, but firm. 

Taste, and add salt and pepper, as desired.

Spoon into bowls, garnish with parsley and serve hot, with lime wedges.