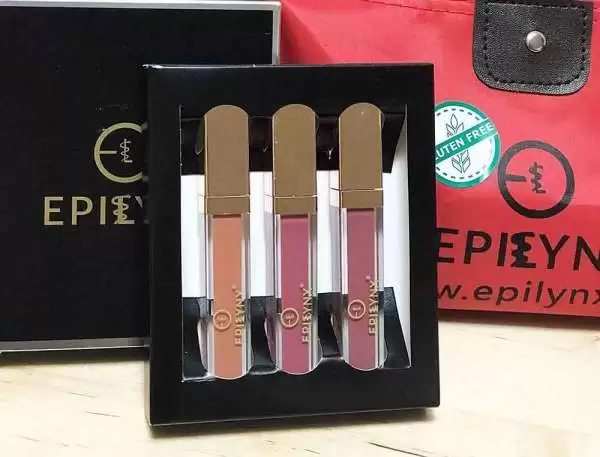 Caption: Pictured here is their #8 3-In-1 Pack. Image: Mei Adams
Celiac.com 04/29/2020 - Out of all of the cosmetics you use, perhaps the most important one to make sure is 100% gluten-free would be your lipstick. Of course it's best to make sure that all of your makeup is gluten-free, but certainly the fact that lipstick goes on your lips makes this even more crucial.
EpiLynx by Dr. Liia makes a full line of gluten-free cosmetics, including an amazing line of gluten-free liquid lipsticks. They now offer new "3 In One" packs which contain three incredible shades of liquid glitter lipstick that will perfectly compliment your skin tone and make your lips shine.
---
Celiac.com Sponsor (A12):


---
---
Celiac.com Sponsor (A12-m):


---
All EpiLynx by Dr. Liia cosmetics are made using all natural ingredients, and their lipsticks contain moisturizing beeswax and are free of parabens, phthalates, petrolatum and SLS. Their liquid applicator makes it easy to apply a perfect coating that will create an even, long lasting shine that will give your lips a healthy glow.

The 3 In One lipstick kits come in eight versions, and each version contains three different, but related, color shades designed to match your skin tone. 

Whether it's lipsticks, lip glosses, eyeliner, moisturizers, or makeup, EpiLynx by Dr. Liia has got your back with their huge line of all natural and gluten-free cosmetics!

About EpiLynx by Dr. Liia:
Epilynx was founded by Dr. Liia Ramachandra, PharmD, PhD, who founded the company after her struggle with gluten sensitivity.

For more info visit their site.