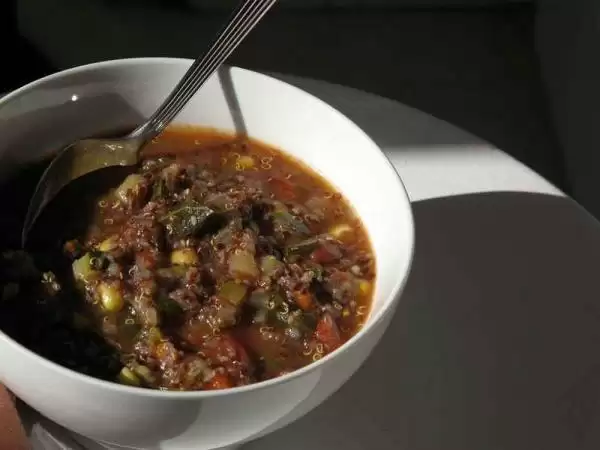 Caption: Image: CC--Gavan Murphy aka The Healthy Irishman
Celiac.com 11/27/2018 - If you've ever been to the highlands of Peru, then you might have tasted versions of this delicious and simple quinoa soup that is a common staple of local restaurants in the region. It's a simple and highly versatile recipe, so add or subtract vegetables, as desired.
Ingredients:
5 cups chicken broth 
5 cups water
1-1½ cups cooked quinoa
3 cloves garlic
½ onion, diced
1 teaspoon oregano
1 teaspoon cumin
1 pinch chili powder
1 cup coarsely shredded carrots
1 cup zucchini, diced
1 cup sliced celery, diced
Celery leaves
---
Celiac.com Sponsor (A12):


---
Directions:
Prepare quinoa ahead of time.

Sauté onions until clear.

Add garlic in the last moments and sauté until fragrant.

In 5- to 6-quart slow cooker, combine cooked onions, garlic, chicken, carrot, celery, and other vegetables. Add spices.

Gradually stir in broth and the water.

Cover slow cooker; cook on low-heat setting for 6 to 8 hours or on high-heat setting for 3 to 4 hours. 

Add a few celery leaves, as desired.

When vegetables are tender, but firm, stir in cooked quinoa, and serve hot.