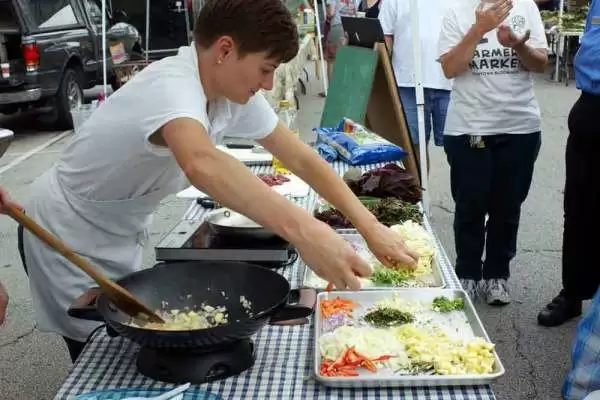 Caption: Cooking at the farmers market. Image: CC BY 2.0--gmtbillings
Celiac.com 05/18/2020 - Most people with celiac disease see a major improvement in the weeks and months after they begin a gluten-free diet. Most celiac patients on a gluten-free diet experience full gut healing within the first few months, and nearly all of them within 12-18 months. However, nearly one in three celiac patients may show adverse signs, symptoms or persistent small intestinal damage after one year on a gluten-free diet. To properly diagnose and treat these patients, they must be assessed for other common GI problems, and for their celiac disease status. 
A team of researchers recently set out to develop guidelines for the indications and use of the gluten contamination elimination diet for patients with non-responsive celiac disease. The research team included Maureen M. Leonard, Pamela Cureton, and Alessio Fasano, who are variously affiliated with the Center for Celiac Research, Mucosal Immunology and Biology Research Center, Massachusetts General Hospital and Division of Pediatric Gastroenterology and Nutrition, Massachusetts General Hospital for Children, Boston, MA, USA, and the Department of Pediatrics, University of Maryland School of Medicine, Baltimore, MD, USA.
---
Celiac.com Sponsor (A12):


---
In their paper titled, Indications and Use of the Gluten Contamination Elimination Diet for Patients with Non-Responsive Celiac Disease, they offer a method for assessing patients with celiac disease with ongoing symptoms, elevated serology, and or villous atrophy, even on a gluten-free diet. 

The team details methods for diagnosing, and distinguishing between, non-responsive and refractory celiac disease. Lastly, the team describes the range of conditions for employing the gluten contamination elimination diet, and offers guidance for clinicians to use the diet as needed for their non-responsive celiac patients who meet the criteria.

Since a significant number of people with celiac disease fail to improve on a gluten-free diet, these guidelines will be helpful in spotting and treating these patients. Do you or a loved one suffer from non-responsive celiac disease? Share your story in the comments below.

Read more in Nutrients, Volume 9  Issue 10