Celiac.com 05/30/2013 - My love for Chinese-style lemon chicken is hardly a secret. However, there are many other way to use lemon to deliver big flavor when cooking chicken.
This recipe for Mediterranean-style lemon chicken uses garlic, herbs, and most importantly, lemons to deliver a delicious flavorful chicken dish that is naturally gluten-free, and which will bring joy to your table. It pairs nicely with risotto and white wine.
---
Celiac.com Sponsor (A12):


---
---
Celiac.com Sponsor (A12-m):


---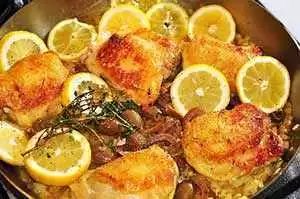 Ingredients:
4 boneless chicken breasts, skin on (6 to 8 ounces each)
⅓ cup quality olive oil
1whole head garlic, minced (about 10 cloves)
½ cup dry white wine
3 lemons, separated (2 for zest and juice, and 1 for cooking)
1 tablespoon grated lemon zest
2 tablespoons freshly squeezed lemon juice
1 teaspoon fresh oregano, or 2 teaspoons dried
1 teaspoon minced fresh thyme
1 bay leaf
Kosher salt and freshly ground black pepper
Directions:
Heat the oven to 400 degrees F.
Warm the olive oil in a small saucepan over medium-low heat, add the garlic and bay leaf, and cook for just 1 minute but don't allow the garlic to turn brown. Don't let the oil get too hot, just warm enough to cook the garlic a bit, and release the flavors of the bay leaf.
Remove the pan from the heat, add the oregano, thyme, and 1 teaspoon salt, then the white wine, lemon zest, lemon juice, and pour into a 9 by 12-inch baking dish, preferably glass.
Pat the chicken breasts dry and place them skin side up over the sauce. Brush the chicken breasts with olive oil and sprinkle them liberally with salt and pepper. Cut the lemon in 8 wedges and tuck them in among the pieces of chicken.
Bake for 30 to 40 minutes, depending on the size of the chicken breasts, until the chicken is done and the skin is lightly browned. If the chicken isn't browned enough, put it under the broiler for 2 minutes until nicely brown.
Remove the pan from the broiler, cover the pan tightly with aluminum foil and allow to rest for 10 minutes or so. After 10 minutes, remove the bay leaf and discard. Sprinkle with salt and serve hot with the pan juices. Serve with risotto and fresh vegetables for a delicious gluten-free meal.