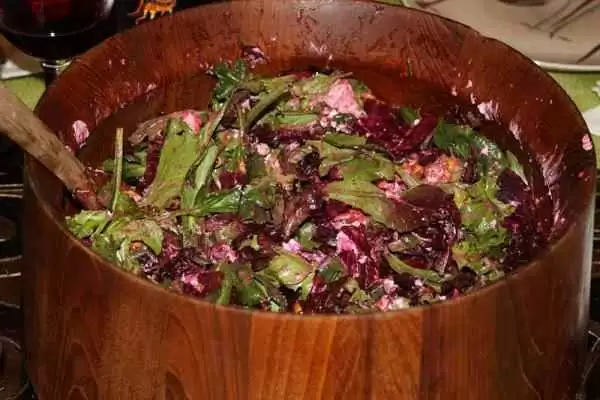 Caption: The beet salad. Image CC--SharonaGott
Celiac.com 03/10/2018 - There's something so fun about summertime picnics; everyone is always so excited to whip up a batch of their famous gluten-free pasta salad or cornbread.  Whether you're bringing along the red and white checker tablecloth and wicker basket or simply using a towel and a canvas tote - there's always fun to be had at a picnic.  It may be nothing fancier than a peanut butter and jelly sandwich but you're still likely to have a fabulous time with good friends and tasty food.
After 30 years of picnics, I've seen just about every dish – the potato salad, the Jell-O mold and the deviled eggs.  But no matter how faithful you are to your picnic favorites I'll bet you'll find a few tasty options below to keep your taste buds happy this picnic season.  Here are a few of my tasty gluten-free favorites to bring along to my summertime picnic soirees.
---
Celiac.com Sponsor (A12):


---
---
Celiac.com Sponsor (A12-m):


---
Fresh Mozzarella and Balsamic Peaches: Toss together 4 sliced peaches, 12 mini balls of fresh mozzarella, 2 tsp. balsamic vinegar, 1 small red onion, 2 Tbsp. rosemary, 2 Tbsp. olive oil, 1 tsp. lemon juice, sea salt and pepper.  

Beet Salad Pitas: Peel beets and grate them in a food processor; add ½ cup pistachios, 1 Tbsp. orange zest, 2 Tbsp. orange juice, 2 Tbsp. olive oil, 1 cup Greek plain yogurt and ½ tsp. fresh parsley stuffed into gluten-free pitas.

Avocado Hummus and Fruit Skewers: Combine 2 ripe avocados, 1 cup black beans, ½ cup cilantro, 1 cup corn, 1 pint cherry tomatoes, sea salt, pepper, 1 Tbsp. fresh lemon juice, 1/3 tsp. chili powder and ¼ tsp. cumin in a food processor; pulse until smooth.  Serve with fresh fruit skewers of apples, pineapple and jicama chunks.

Curried Deviled Eggs: Hard boil a dozen eggs.  Slice each egg in half, remove yolks. Combine yolks with Greek plain yogurt, curry powder, Dijon mustard, lime juice, sea salt, white pepper, cilantro, red onion and diced apple; mix well.  Place a Tablespoon of mixture into each egg white half and serve.
Sweet Potato Pesto Turkey Wraps: Combine 4 baked sweet potatoes, 8 Tbsp. olive oil, sea salt and pepper, 2 ½ cups fresh parsley, ½ cup pine nuts, 1/3 cup walnuts, 1 clove garlic, 1 tsp. lemon juice, ½ tsp. lemon zest in a food processor; pulse until smooth.  Spread atop organic slices of turkey and roll up.

Peanut Edemame: Toss together 1 cup cooked edemame, 1 Tbsp. smooth peanut butter, 1 tsp. honey, 2 tsp. warm water, 1 tsp. sesame seeds; gently toss to combine.
Sunshine Tea with Fresh Mint: Combine 4 cups of boiling water, 4 green tea bags, 1 freshly sliced lemon and 1/3 cup fresh mint leaves in a large pitcher. Set in the sun for 8 hours. Serve over ice.

Bon appétit!